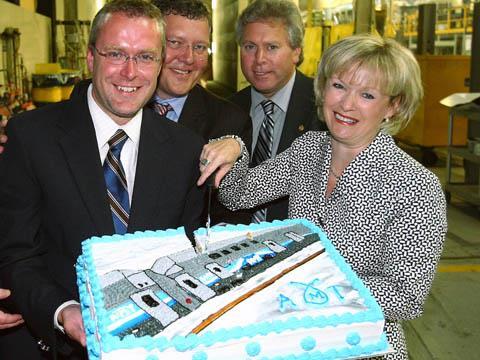 CANADA: The first of 160 double-deck coaches being built for Montréal's commuter network was unveiled at Bombardier's La Pocatière plant on August 21.
The ceremony was attended by Julie Boulet, Québec's Minister of Transport; Claude Béchard, Minister and member of the Québec National Assembly for the district; and Joel Gauthier, President of Agence Métropolitaine de Transport.

The government of Québec awarded the C$386m contract to Bombardier in December 2007. Annual ridership on AMT's commuter network now exceeds 16 million trips, and the new fleet will enable AMT to increase services on all five commuter lines to accommodate an additonal 43 000 trips per day. The extra capacity will also allow AMT to withdraw some of its aging fleet for renovation.
Each of the stainless-steel coaches has 142 seats plus benches on the intermediate levels, giving a capacity of 200 passengers. They are designed to operate on AMT's entire network, including through the restricted profile Mont Royal tunnel.

The cars will be commissioned at a rate of one trainset per month starting later this year. They will gradually enter service on the existing five lines and will eventually work the future Train de l'Est line to Repentigny and Mascouche. 'These new trains are much more than just pieces of equipment. They inaugurate a new era for commuter trains in the Montréal region' said Joel Gauthier.

AMT's fleet renewal will continue with the arrival of 20 Bombardier electro-diesel locomotives from 2012.