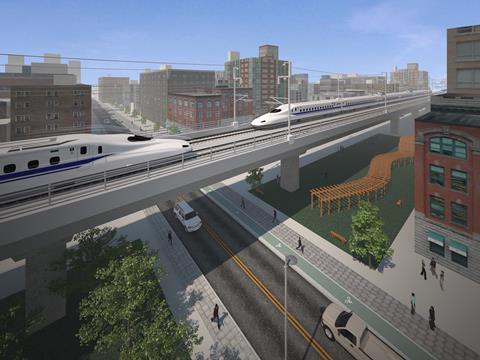 USA: Construction of the Texas Central high speed line linking Houston with Dallas is expected to start in the coming months following completion of the regulatory approval process.
This concluded on September 21 when the Federal Railroad Administration released a pre-publication version of its final Rule of Particular Applicability and the Record of Decision. The RPA provides the regulatory framework for the planned 385 km high speed line. It establishes a comprehensive set of safety requirements covering signalling and train control, track design, rolling stock, operating rules and maintenance approaches.
Project promoter Texas Central Railroad says that the railway's design incorporates 'accident avoidance measures that are significantly more stringent' than those required for conventional US railways. Backed by JR Central, Texas Central is to adopt many of the operating principles used on the Japanese high speed network. According to Texas Central, FRA's rule 'establishes regulatory requirements codifying the service-proven technological, operational, and maintenance aspects of the Tokaido Shinkansen'.
The Record of Decision meanwhile completes FRA's environmental review process which began in 2014, and follows the publication of a Final Environmental Impact Statement on May 29. It also formalises the alignment of the railway.
'This is the moment we have been working towards', commented Carlos Aguilar, Chief Executive of Texas Central Railroad. 'The release of the final RPA and ROD by the Federal Railroad Administration represents years of work by countless individuals, affirming a very thorough and careful federal regulatory process that will make the Texas Central Railroad the first high speed rail system to be implemented in the USA.'