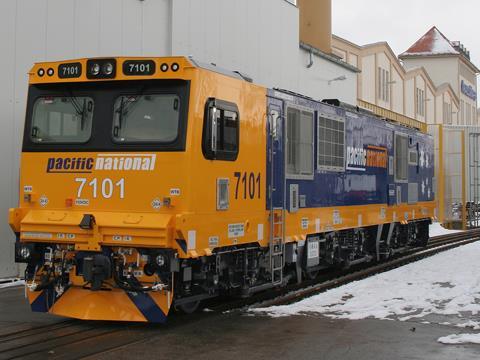 AUSTRALIA: Siemens' München-Allach plant has rolled out the first of 23 electric locomotives ordered by Pacific National in 2007. The 1 067 mm gauge Class 7100 locos will be used on coal traffic in Queensland. The first is due to arrive in Brisbane at the beginning of April, with the rest delivered over the following 14 months.
The six-axle 25 kV AC locomotives weigh 132 tonnes, are rated at 4 000 kW, have a maximum speed of 80 km/h and are equipped for regenerative braking.
Siemens is also supplying QR with Class 3800 locomotives for coal traffic. A total of 45 are to be delivered by the end of 2010 under contracts placed in March 2006 and October 2007.
On January 24 SNCF took delivery of the 100th of 400 BB475000 diesel locomotives being supplied by Alstom and Siemens under a contract signed in February 2004. Siemens said it is the first of 33 which will be equipped with both German and French automatic train protection systems.