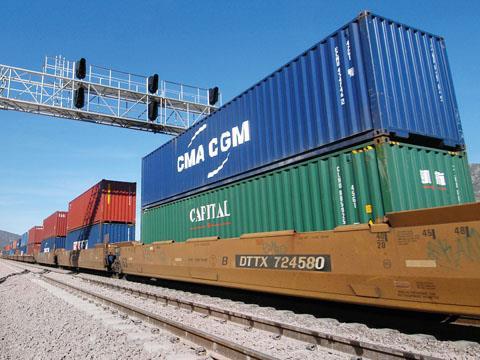 USA: Despite a conspicuous lack of progress in developing maglev for the passenger sector, it seems that North America remains fixated with the concept.
We hear that Union Pacific has commissioned Skytech Transportation and American Maglev Technology to develop a feasibility study for an 8 km maglev line to carry freight. UP is planning to double the capacity of its Intermodal Container Transfer Facility in Long Beach to 1·5 million TEUs a year, bringing the prospect of even more drayage trucks shuttling containers to and from the ports of Los Angeles and Long Beach.
AMT was involved with two maglev pilot programmes, in Florida and at Old Dominion University in Norfolk, Virginia. The 975 m guideway at ODU was intended to carry students around the campus, but when dynamic testing began in 2002 the small passenger car vibrated severely. Despite investing more than $14m, AMT and its partners could not solve the problems and work stopped with the guideway part-completed.
Whilst UP's containers may be more resilient to vibrations than ODU's students, it will be interesting to see how much energy will be needed to lift and transport such heavy loads.
Not that UP seems short of money at present. The railroad has just turned down a $43m state subsidy towards the cost of double-tracking part of its east-west main line over California's Donner Pass, because the deal would require the operation of additional passenger trains. Chairman Jim Young wrote to Governor Arnold Schwarzenegger to point out that UP had 'consistently maintained' that the Donner capacity expansion works 'must be exclusively a freight project', and UP 'will develop and construct the project over time with its own resources.'