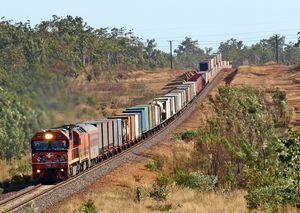 NO SOONER had we reported Freightlink's delight with the first year's performance on the Adelaide - Darwin route (RG 2.05 p70) than contractor Mowlem announced in London that it was not satisfied.
In a statement on February 3 Mowlem said 'it is now apparent that freight volumes on the Alice to Darwin railway project in Australia, which we built and of which we are part owner/operator, are not growing as quickly as anticipated. This has generated lower than projected revenues and a requirement for additional capital of which Mowlem's share will be up to A$10m. Our investment has not been impaired but we believe the future value has been reduced.'
The situation was clearly more complex than first indications suggested. On February 8 Freightlink said it had revised its business plan following a 'comprehensive review' of the first 12 months. CEO John Fullerton repeated his assertion that the first year had been a success. But the review had given the company 'a more accurate understanding of future growth and new business opportunities', and 'it is clear that in some areas of the business projections will be lower than originally anticipated'. Among the reasons are 'capacity constraints apparent on the interstate rail network limiting our ability to get freight into Adelaide for transhipment to Darwin.' There are also suggestions that the problem relates to the original pricing of the freight and lower than expected net tonne-km, with much of the cargo from Adelaide moving only as far as Alice Springs rather than Darwin.
Fullerton remained optimistic, confirming that 'new business opportunities are emerging in the minerals area'. Freightlink is acquiring 100 well wagons to carry double-stacked containers, and it is also investing in sidings 160 km north of Tennant Creek that will 'facilitate the carriage of 600000 tonnes of manganese from the Bootu mine to the Port of Darwin for export each year'. Fullerton noted that while first year tonnage had exceeded targets, 'the mix of freight, and therefore revenues generated, were not in line with the original business plan'.
Pricing appears to be a key issue. Han Win Shipping reported in January that the unit price for a shipment of 70 containers from Shanghai to Adelaide via Darwin and the new line was up to three times the cost of sending it directly by ship to Adelaide. Freightlink's February 8 statement said it had 'recently introduced a number of new pricing initiatives for the general freight market and has committed to work with customers to ensure services remain competitive on the corridor.'