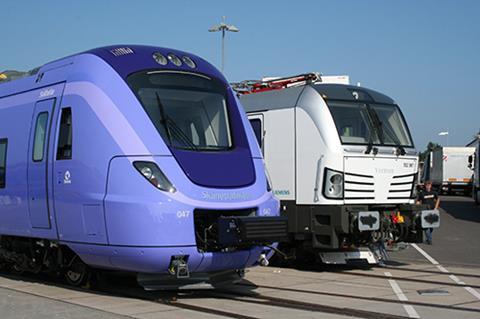 INNOTRANS: 'Despite a stagnating global economy InnoTrans 2012 has expanded and set new records', said Chief Operating Officer of Messe Berlin GmbH Dr Christian Göke at a pre-opening press conference on September 17. Two 'sonic walls' had been breached, he said, revealing that InnoTrans 2012 occupied the entire showground for the first time and that 17% more stand space had been booked than in 2010.
With 26 halls filled to capacity and every metre of the 3·5 km of tracks occupied by 115 vehicles, InnoTrans 2012 has attracted 2 515 exhibitors from 49 countries; countries exhibiting for the first time are Malta, Singapore, Mexico and Estonia. The proportion of non-German exhibitors has risen to 57%, and the organisers expect more than 100 000 visitors from over 100 countries to pass through the entrance gates before the show closes.
No fewer than 147 product launches are scheduled, of which 104 are flagged as 'world premieres'. Göke said that this reflected recognition of the event by suppliers, who had dovetailed their launches to coincide with InnoTrans.
Asian companies have stepped up their presence, with 90% more space occupied by Chinese manufacturers and Japanese suppliers taking 84% more than two years ago. The number of US exhibitors is also up significantly.
InnoTrans offered visitors a complete overview of the market, Göke said, noting that the trade show was supported by a strong programme of conferences, with six main events including the Rail Leaders' Summit in the InnoTrans Convention.
Philippe Citroën, Director General of UNIFE, the European railway supply industry association, said that InnoTrans demonstrated 'the vitality of the rail sector', which was forecast to grow at a rate of 2·7% over the next six years. The 'accessible market volume' was expected to grow by 10% in the Middle East and Africa, he said, whereas a slowdown in activity in China meant that the rate of growth in the Asia-Pacific region would be just 0·2%.
German suppliers secured €14·5bn worth of orders in 2011, according to Prof Dr Ronald Pörner, Managing Director of VDB, the German railway industry association. Although this was a new record, further stimulus was needed, and Pörner put forward the idea of an 'environmental bonus' to encourage replacement of ageing diesel locomotives operated by non-DB railways. Potentially worth €80m over three years, this could be funded through value added tax, he suggested.