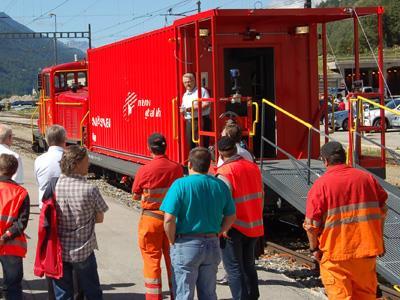 SWITZERLAND: Matterhorn Gotthard Bahn officially inaugurated new fire and rescue vehicles for the 15·4 km Furka Tunnel with a ceremony at Oberwald on August 7.
Fire-fighting and rescue vehicles have been stationed at Realp and Oberwald since the Furka base tunnel opened in 1982, and MGB decided to update the facilities using equipment from outside contractors and vehicles rebuilt at its own workshops. New stabling facilities for the trains are under construction at each end of the tunnel for completion later this year.
The trains are formed of separate fire-fighting and ambulance vehicles, a bidirectional driving car and a tractor unit. The fire-fighting vehicles have a fire extinguishing system with a 6 000-litre water tank, thermal imaging cameras, multi-detector to measure gases, oxygen supply and breathing equipment, and seats for 10.
The ambulance cars are converted from containers, and can be pressurised so that passengers can be carried without the need for masks. They are equipped with medical supplies and other life-saving equipment, together with cylinders holding 328 000 litres of air.
Each train is operated by a local commander heading a team of 23 railway staff, who all undergo first aid training and participate in regular exercises. They are backed up by the emergency services in Goms and Uri under an agreement with the local authorities.