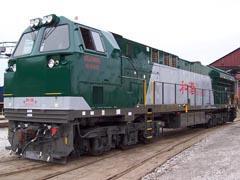 CHINA: A joint venture to build and maintain Evolution Series locomotive engines was announced by GE Transportation and CSR Qishuyan Locomotive on November 17, the day after the US firm announced a deal to supply its Chinese partner with parts for a further 300 HXN5 China Mainline Locomotives.
The equally -owned joint venture will assemble and overhaul diesel engine components in China from late 2011. A second phase starting in 2013 will expand its activities to include complete engines.
'This new joint venture directly aligns with GE's strategic direction to design, manufacture and service products within the region or country in which they are used,' said Tim Schweikert, President of GE Transportation China. GE will supply key components including turbochargers and fuel injection kits, supporting 120 manufacturing jobs in the USA.
GE Transportation and CSR Qishuyan began their partnership in October 2005 with a strategic contract to supply the Ministry of Railways with 300 HXN5 China Mainline Locomotives. More than 100 are now in revenue service, and an agreement was announced on November 16 for GE's US plants to supply kits for a further 300.
GE also sees a significant opportunity for locomotive repowering work in China, where CSR has produced more than half of the over 12 000 diesel locomotives now in service.
GE and the Ministry of Railways have signed a memorandum for joint work to exploit high speed rail business opportunities in the USA.