KAZAKHSTAN: GE Transportation is working with Kazakhstan Temir Zholy to modernise the locomotive fleet, reports Murray Hughes.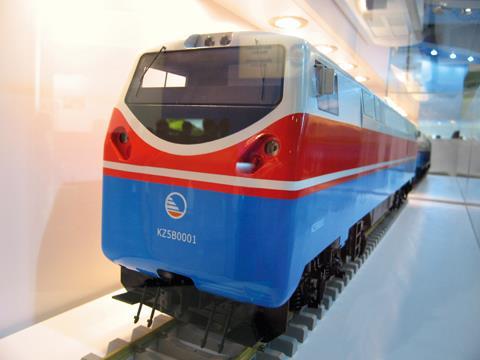 Before the end of the year the first of 10 Evolution Series diesel locos will leave GE Transportation's assembly plant in Erie, Pennsylvania, bound for Kazakhstan. They are the forerunners of a large fleet of locomotives destined to enhance traction performance on Kazakhstan Temir Zholy's 14205 route-km network, of which less than one-third is electrified.
GE signed a contract to supply 310 Evolution Series locos to KTZ on September 28 2006. Worth more than US$650m, the deal provided for 10 complete locos to be delivered to KTZ in 2008, with a further 300 assembled from kits at a plant now under construction at Pavlodar, 438 km east of Astana. According to GE Transportation's International Product Director Kamal Shivpuri, a further 15 complete locos have since been added to the contract. Shivpuri says that construction of the assembly plant will be completed during 2009, and that the first locally-built Evolution Series loco will emerge in 2010. The initial production phase will see 100 locos assembled, with the remaining 200 following in a second phase by 2015. Design capacity of the plant is 100 locos a year.
KTZ's six-axle locos will be powered by a 12-cylinder GEVO engine producing 4400 hp — the same as its 16-cylinder predecessor. The GEVO design has an engine-mounted intercooler and is manufactured in Grove City, Pennsylvania. The engine offers a 3% to 5% fuel saving over earlier GE designs, and Shivpuri notes that the locos will be 'significantly more fuel-efficient' than the Russian-built locos they will replace in Kazakhstan. The GEVO engine meets the US Tier II emissions regulations as well as the most recent Russian emissions legislation, and Shivpuri confirms that the design can be upgraded to meet Tier IIIa standards at a future date. One Evolution Series loco will take the place of a twin-unit 2TE10 locomotive powered by a pair of D49 engines from Kolomna. 'This is the economic justification' for the purchase, adds Shivpuri.
The twin-cab GE locos will have six inverters controlling the six AC traction motors, which GE says are 'a first for the CIS region'. Able to operate in a temperature range stretching from +45C to -45C, or even -60C if required, the locos are intended mainly for freight traffic. Highest axleload will be 23 tonnes, but this can be upgraded to 25 tonnes if needed. The heavier loco would carry a 9000 litre fuel tank compared with the 6500 litre tank on the lighter version. Starting tractive effort is 534 kN for the 23-tonne version, with a continuous tractive effort of 427 kN.
Shivpuri says that KTZ's new locos will have bogies designed to run for 1·6 million km between overhauls, and that the whole loco is intended to require very low maintenance.
GE Transportation first signed a contract to modernise locomotives for KTZ in 1995, and it has since worked closely with the national railway. Shivpuri says that Mongolian Railways is interested in a similar deal for local assembly of locomotives.
Libyan contract
Next year GE Transportation will deliver 16 diesel locomotives to Libya. They will be used on the 554 km route between Surt and Banghazi, now under construction with the help of Russian Railways. GE was due to begin delivering the first of 40 diesel locos to Egyptian National Railways in September under a US$120m deal signed in February 2007. Shivpuri says that his company is building a total of 80 locos for ENR.