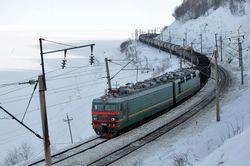 RUSSIA: On April 30 private freight operator Globaltrans Investment plc announced the price of its initial public offering of shares which will be admitted to the London Stock Exchange.
The offer is priced at US$13·25 per Global Depositary Receipt representing one ordinary share. A total of 16 959 064 GDRs representing newly-issued shares are being sold by Globaltrans, and the same number by existing owners Transportation Investment Holding and Envesta Investment, resulting in a free-float of 29%, assuming no exercise of an over-allotment option.
The IPO generated total proceeds to Globaltrans and the selling shareholders of US$449·4m, giving an implied market capitalisation of US$1·55bn. Conditional dealings on the London Stock Exchange began on April 30, with unconditional dealing expected to start around May 8.
'The success of our offering shows that investors recognise the great potential of the Russian rail freight industry' said Globaltrans Chief Excutive Sergey Maltsev. 'This is a sector that is set to continue its rapid growth and we intend to retain and build on our leadership position within it. The offering has given us access to the capital we need and we will now move forward with the implementation of our investment plans, enhancing our opportunities for growth and value creation'.
Globaltrans' operating profit for the year to December 31 2007 was US$127·6m, up from US$76·8m in 2006. Assets as of December 31 last year were US$778·0m, up from US$697·7m in 2006.
In the May issue of Railway Gazette International Globaltrans Chief Executive Sergey Maltsev explains his plans to exploit the liberalisation of the Russian freight market; read our exclusive interview here.