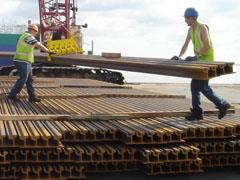 USA: BNSF has taken delivery of JFE Steel's first shipment of 600 tonnes of Super Pearlite Type 3 rail from Japan. In -service tests which were carried out for more than a year in Nebraska and Idaho predict that SP3 will offer a 10% longer life than previous head hardened rail specifications when used on sharply curved freight routes.
SP3 offers increased wear resistance due to an ultra-fine structure obtained through composition control and post-rolling cooling with an advanced heat treatment process which ensures internal as well as surface hardness.
JFE Steel exported 4000 tonnes of rail to Australia in April. Rio Tinto, JFE's first foreign rail customer outside the USA, will use the rail on its heavy-haul iron ore network in the Pilbara region of western Australia.