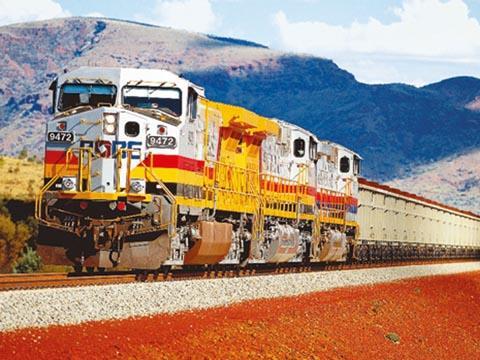 AUSTRALIA: Fortescue Metals subsidiary The Pilbara Infrastructure has lodged an application with Australia's National Competition Council seeking access to Rio Tinto's Robe River heavy haul line. TPI is seeking to operate trains over 210 km of track between Mesa J and Cape Lambert, with a view to enabling third parties to exploit untapped ore reserves economically.
Late last year TPI applied for access to Rio Tinto's Hamersley Iron lines and BHP Billiton's Goldsworthy line.
Meanwhile, on February 4 BHP Billiton confirmed US$930m of funding for a US$1·09bn capacity expansion programme in Western Australia, including doubling the railway from Yandi mines to Port Hedland. To be undertaken in partnership with Itochu and Mitsui, the work is expected to get underway in May.
Ian Ashby, President of BHP Billiton Iron Ore, said 'the core of the Pilbara is progressively moving to the Yandi/Area C mining hubs. Double-tracking the railway to this area will create the rail capacity to support our planned expansion to more than 300 million tonnes/year.'
Pilbara Iron has taken delivery of 10 GE Transportation ES44DC Evolution diesel-electric locos, supplied to the Rio Tinto subsidiary through United Group Rail. Built at GE's plant in Pennsylvania, they are fitted with GE's GEVO-12 engines producing 4 400 hp. They were shipped to Dampier in Western Australia before fitting out and commissioning at Rio Tinto's Seven Mile Yard. The locos are initially being used to haul ore from the Hope Downs Iron Ore Project, a 50-50 joint venture between Rio Tinto and Hancock Group which is situated 75 km northwest of Newman in the Pilbara region.