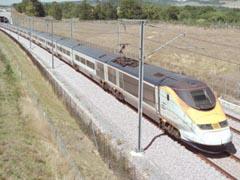 UK: A consortium of Borealis Infrastructure and Ontario Teachers' Pension Plan has been selected for a 30-year concession to manage High Speed 1, Transport Secretary Philip Hammond announced on November 5.
The deal will be completed by the end of November, and will see the consortium pay a total of £2·1bn for the concession to manage the 109 km high speed line between London and the Channel Tunnel.
The consortium will take over HS1 Ltd, currently a wholly-owned subsidiary of London & Continental Railways which is in turn owned by the government. In 2009 HS1 entered into a long-term concession to manage the high speed line and the stations at St Pancras International, Stratford, Ashford and Ebbsfleet.
The sale was managed by LCR, which was advised by UBS with Citi advising the government. 'The £2·1bn receipt exceeds the highest expectations for the sale', said Hammond.
HS1 will receive revenues from track access charges sold on a commercial basis. At present 60% of its access charge revenue is comes from Southeastern domestic services, with 40% from international services. Additional revenue comes from activities such as the retail estate at St Pancras International and car parking.
The concession will be independently monitored by the Office of Rail Regulation. Ownership of the infrastructure and the freehold to the land will remain vested in the Secretary of State, and at the end of the concession period all rights will revert to the government.
HS1 will be responsible for maintaining the assets in good condition and renewing them as necessary. At present operations and maintenance have been subcontracted to a dedicated subsidiary of Network Rail.
Ontario Teachers' Pension Plan is the largest single-profession pension plan in Canada, with direct investments in the UK including lottery operator Camelot Group and Bristol and Birmingham airports. 'HS1 is a high-quality asset ideally suited to our investment criteria and we are extremely pleased that our bid was selected,' said Stephen Dowd, Senior Vice-President, Teachers' Infrastructure Group. 'HS1 will provide stable inflation-protected returns from proven and long-standing patronage levels, along with upside potential as the European Union moves to liberalise international rail travel. Teachers' has positive experience operating major assets in the UK and HS1 further diversifies our global infrastructure portfolio.'
Borealis Infrastructure is the infrastructure investment arm of OMERS Worldwide, one of Canada's largest pension plans. Its portfolio includes investments in Associated British Ports and a majority interest in the 2·6 km Detroit River rail tunnel between USA and Canada. Michael Rolland, President &CEO of Borealis Infrastructure, said the acquisition supports a long-term strategy to diversify internationally, with HS1 offering 'an attractive and stable regulatory environment with good long term visibility on inflation linked cash flows.'