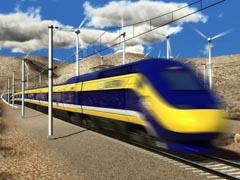 USA: Not surprisingly, a request for expressions of interest to develop high speed rail corridors has attracted a considerable degree of attention, despite the country's poor track record with privately-funded projects and the limited prospects for such schemes going ahead in the current economic climate.
Legislation passed by Congress last October included a provision requiring the Federal Railroad Administration to open up high speed rail development to the private sector in 11 federally-designated corridors under a strict timetable. 'Statements of interest' were invited on December 15 (RG 2.09 p28), drawing responses from 80 organisations. These include architectural, engineering and construction firms, transport finance companies, consultants, rail service providers and rolling stock manufacturers, as well as state departments of transportation.
Under the congressional timetable, final packages that include proposals for finance, construction, operation and maintenance must be submitted by September 2009. Two months later, FRA must establish commissions to consider those proposals deemed to be in the public interest. Membership of the commissions will include state governors, mayors, railway union officials, and representatives from Amtrak, the freight railways and local transit authorities.
The commissions are to review and rank the proposals, forwarding their recommendations to FRA in February 2010. FRA in turn is expected to report back from April of that year, issuing a series of reports to Congress beginning with the Washington DC – New York corridor which is seen as the top priority.
The Surface Transportation Board is to crack down on railways found responsible for delays to Amtrak trains. Under rules dating from the corporation's establishment in 1971, the freight railroads were obliged to give passenger trains priority, but the requirement has been widely ignored and Amtrak's long-distance trains are often chronically late. STB and its predecessors had been loath to intervene, but last October's legislation, ?plus the Obama administration's strong backing for inter-city rail, has put teeth on the old law. STB Chairman Charles Nottingham hopes to see Amtrak's network-wide on-time performance raised to 80%, suggesting that STB will start to fine railways that are found to be negligent or uncooperative.