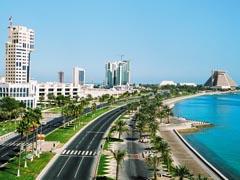 QATAR: Deutsche Bahn has revealed details of its agreement to assist with the conceptual development of a rail network in the emirate.
A memorandum of understanding was signed by DB and state investment company Qatari Diar at the end of August. DB will develop conceptual designs and provide consultancy services for the establishment of a local transport system in Doha, and the development of international freight and passenger lines including a possible high speed rail link to Bahrain.
DB said the provision of links to countries in the Gulf Co-operation Council is of personal importance to the Emir of Qatar, Sheikh Hamad bin Khalifa Al-Thani, who is closely involved in the project.
A joint project group comprising around 60 transport experts and engineers from DB International will draw up several different planning options and track layouts in co-operation with the Qatari partner.
DB said it will merely provide expertise, and is not expected to make any financial contribution. 'This agreement clearly demonstrates the strength of our integrated group and the excellent reputation our railway know-how enjoys in other countries,' said Dr Otto Wiesheu, Chairman of DB International.
Chief Executive of Qatari Diar, Ghanim bin Saad al Saad, said he was looking forward to developing 'a state-of-the-art rail system for Qatar'. The results of the planning phase are due to be presented to the government early next year.
Rail concepts
The east coast rail link, a passenger and freight railway linking Ras Laffan industrial complex with Doha and the new port in Mesaieed.
A high speed link from the new international airport to central Doha and across the planned causeway and bridge to Manama in Bahrain.
The Doha expressway, a freight link to Saudi Arabia based on GCC rail studies.
The Doha metro network of six lines, running underground in the city centre.
Peoplemovers in urban developments at Lusail, Westbay and Education City.