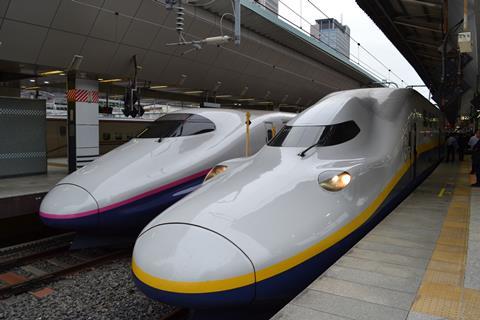 JAPAN: East Japan Railway is testing the use of high speed passenger trains to move fresh fish from Sendai to Tokyo.
The three-day trial began on August 26, with fish caught off the coast near Ishinomaki early in the morning being transported aboard Yamabiko 136, which departed from Sendai at 10.41 and arrived in Tokyo at 12.48. The fish were destined for customers in central Tokyo, including restaurants in the shopping complex within Tokyo station.
This is not the first case of foodstuffs being transported by the high speed rail network, as fresh fish, fruit and vegetables have been moved on Joetsu Shinkansen trains between Niigata and Tokyo since January 17. Trains leave Niigata at 10.17 every Friday, with the fish reaching a Hoodison store in Shinjuku station at around 14.30.
These services do not use passenger accommodation, unlike JR East's latest test programme where the No 1 car is closed to passengers so that the seats can be used to transport the containers of fish.