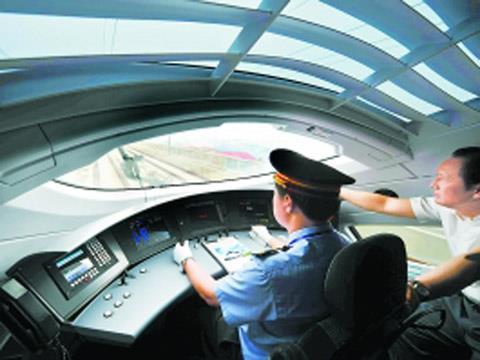 CHINA: The Ministry of Railways has placed three orders for a total of 280 high speed trainsets and 400 freight locomotives. Knorr-Bremse is to supply subsystems worth €500m for one of the high speed contracts in the company's largest ever order.
China Northern signed a 40·8bn yuan contract on September 28 to supply 140 eight-car 350 km/h CRH3 trainsets. The manufacturer said this brings the total order for the Siemens Velaro-derived trains to 400 sets. They are to be built at CNR's Changchun and Tangshan plants, with Knorr-Bremse supplying braking, door and air-conditioning systems in 2009-12.
China South has received a 45bn yuan order for a further 140 high speed trains based on the Japanese E2-1000 design. These 350 km/h sets will be built by Nanche Sifang in Qingdao under licence from Kawasaki Heavy Industries and will incorporate components from Japanese firms.
The Ministry of Railways has also placed an order for an additional 400 HXD3 freight locomotives, to be delivered by CNR's Dalian, Datong and Beijing February 7th plants within 8 months of the contract signing on October 22. CNR said this is the third contract for the 7·2 MW Co-Co design, bringing the total ordered to 1 040.
Since 2004 the Ministry of Railways has placed orders with CNR for a total of 2 200 electric locomotives of various models, giving the supplier a 67% share of the domestic locomotive market.