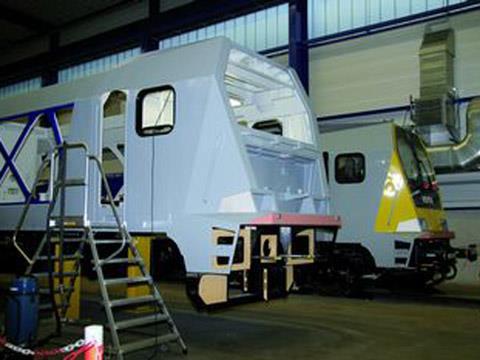 VOITH TURBO Lokomotivtechnik of Kiel in north Germany has won several orders for its Maxima and Gravita diesel-hydraulic locomotives.
The prototype Maxima has been tested at Velim (RG 11.07 p724) and was due to undergo winter trials in Norway before returning to Germany. The second loco, now nearing completion (rear of photo), will shortly be delivered to Häfen und Güterverkehr Köln for certification trials in Belgium and the Netherlands, while the third loco (foreground) is destined for a private railway operator. Havelländische Eisenbahn has ordered two Maxima locos, which it will designate Class V490, with an option for six more; they will be used mainly to haul container traffic between North Sea ports and Poland.
An unnamed leasing company is to acquire a fleet of 15 Maxima locomotives in both the 30CC and 40CC versions, and Ox Traction (RG 11.07 p724) has signed a framework contract for 23 Maxima locos and 32 of the smaller Gravita design. Voith has fabricated the frames for the first Gravita 10BB loco, which is due to be exhibited at the InnoTrans 2008 show in September. Voith plans to outsource the assembly of later builds of Gravita locos to a subcontractor.