Revival of railway research, construction of a major testing centre and a 20-year investment programme in track and trains are on a shopping list of railway development activities in Nord-Pas de Calais. Murray Hughes reports from Lille and Valenciennes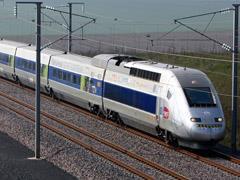 AMBITIOUS PLANS are taking shape in the Nord-Pas de Calais Region of northern France to revitalise the local railway industry. The regional government voted on May 4-5 to establish a rolling stock testing centre that could be used by local and foreign suppliers, and this is just one item on an impressive shopping list covering research, development and industry expansion.
The primary objective is to develop what investment promotion agency Nord France eXperts calls 'Europe's number one railway cluster'. The idea is to encourage investment in the region to support the local railway industry and win more business, building on the achievements of established suppliers and expanding their capabilities.
At the same time the regional government believes that railway services throughout the area should be developed and expanded to cater for future demand, and this programme will see electrification, track doubling, reopening of closed routes and construction of new sections of line over the next 20 years.
Nord-Pas de Calais already has an impressive track record. As long ago as 1977 it was the authority that made the running in taking financial responsibility for and specifying the level of local and regional rail services, while the driverless VAL metro whose first line opened in April 1983 has attracted worldwide attention. More recently, a small rolling stock test centre established in 2000 at Petite Forêt near Valenciennes has been used to test trains built locally by Alstom and Bombardier, while the establishment of the European Railway Agency in Valenciennes puts the region firmly on the railway policy-making map of Europe.
The region is well-connected by TGV services and is home to more than 100 small and medium-sized companies that supply raw materials and parts to the railway industry; these businesses generate annual revenue of around €1bn, representing about one-third of activity in the sector within France and providing 10000 jobs, of which 4500 are in manufacturing. An active local railway industry grouping, the Association des Industries Ferroviaires Nord-Pas de Calais, has over 75 members. The region is already successful in attracting new business, one example being Eurailtest's decision to set up offices in Lille in 2004.
France's last major freight wagon builder, Arbel-Fauvet-Rail, is also located here - the company is currently working on a piggyback wagon developed with Novatrans. Among possible applications is the autoroute ferroviaire due to be launched on March 31 2007 between Bettembourg and Perpignan. Services will also reach Nord-Pas de Calais, which is making provision for this in its long-term plans.
Focus moves to research
The focus is now set to switch to research and development as the I-trans project moves from the drawing board to reality. In July last year the French government endorsed I-trans as a centre for development of railway technology under the p?€?les de competitivité programme (RG 8.05 p470). Of 105 funding bids submitted under this programme, 67 were approved, and of these, 15 were designated to be 'of world significance'. I-trans, which now includes the Region of Picardie as a partner, is one of these.
The significance of the I-trans scheme is that national government provides 20% of funds for research and innovation projects, according to Rémy Chassaignon, Chief Executive Officer of Nord France eXperts.
The total funding available for I-trans amounts to €270m. Of this, €145m is earmarked for innovation projects, including €70m which will come from private industry. A further €125m will be allocated to support projects such as provision of land for the proposed railway test centre.
An initial batch of 14 projects was authorised on January 12, providing €20m for railway research. A second batch followed on April 10, and a third is anticipated in October.
Future inter-city train
The I-trans projects authorised to date include two major railway research activities. One is the development of components for an inter-city or inter-regional train able to operate at speeds of 200 km/h and more, and the other is for a ballastless track design suitable for upgrading or for new line projects.
Both the inter-city train and the new track design fall into the 'interoperability' category of research projects, and so far three specific sub-projects have been approved (p333). More are anticipated in the future, and these may include work on 'soft' research to improve the region's skills and expertise. Training of engineers and managers ranks high among the I-trans priorities, not least because the project's leaders are hoping to create a centre of railway and transport knowledge to which other regions and countries may turn in years to come.
Yves Ravalard, Project Manager and Scientific Director for I-trans, is conscious of the need to improve freight technology, noting that without faster speeds, lower noise emissions and less wear, rail freight will not be successful in tomorrow's market. Related projects can be anticipated in future I-trans research.
European testing centre
This is the most ambitious of all the research and development proposals, with a notional cost of €150m. The project was approved unanimously by the Regional Council on May 4-5, and it is clear that the scheme will merit considerable attention.
Described by Ravalard as a 'locodrome', the project may include tracks where trains could be tested at speeds well in excess of 200 km/h. This could take the form of a long straight section between two turning loops, and one idea to be examined would see the straight section forming part of a 70 km high speed line between Valenciennes and Aulnoye.
The centre would open up the possibility of achieving at least partial certification for high speed trains, but the project would also permit a wide range of other issues to be investigated, including noise and electromagnetic compatibility, for example.
Ravalard explains that the scale of the project means that 'it can't just be French - it has to be a European project'. Indeed, the proposals have already been promoted outside France, with Network Rail in the UK among potential interested parties.
Existing test track
The region already has a more modest test centre at Petite Forêt near Raismes, and this too is to be expanded in the near future, according to General Manager Jean-Marie Vanzemberg.
Owned 61% by Alstom, 34% by railway certification agency Certifer and 5% by Bombardier, the centre was opened in 2000. It has three test tracks. The longest at 2·75 km has 325m radius curves and permits speeds of 120 km/h. A 1·84 km endurance loop with 325m and 190m radius curves allows trains to be tested at up to 90 km/h.
The third test track is 1·81 km long and is intended for testing driverless trains; it includes a track with an S-curve. A 105m long workshop houses the centre's own vehicle which can be used for a wide variety of tests.
The tracks have equipment for third rail power supply at 750V DC as well as overhead line equipment for 1·5 kV DC, 3 kV DC, 25 kV 50Hz or 60Hz, as well as 15 kV 16 2/3Hz.
Vanzemberg says that there are plans to construct a fourth loop for testing of trams and possibly tram-train vehicles. This will have curves of 20 to 25m radius.
The smallest loop is in the meantime being upgraded at a cost of €4m to allow testing of automation equipment for RATP's driverless trainsets that will operate on Paris metro Line 1. This will include trials in degraded mode, and the work will be finished in July 2007.
During 2005 around €2·5m was spent on installing Level 2 ERTMS equipment as part of the testing and validation programme for the train control equipment to be used on TGV Est. The centre is currently being used to test a CSEE Transport-Ansaldo Segnalamento communications module and a radio block centre (RG 4.05 p196)
Some railway research is also conducted at the C3T Ground Transportation Technological Centre, which is affiliated to the University of Valenciennes and to local company Valutec; it is also associated with the Regional Group for Research in Transportation. Work covers dynamics, fatigue and crash testing, braking, comfort and ergonomics, and facilities include a 55m crash tunnel where components can be catapulted into a solid wall at up to 80 km/h.
I-trans supporting organisations
I-trans is supported by the regional councils of Nord-Pas de Calais and Picardie, the departmental council of Nord-Pas de Calais, the municipal governments of Lille and Dunkerque, and the greater metropolitan communities of Amiens, Artois, Douai, Hénin-Carvin, Lens-Liévin, Porte du Hainaut, Valenciennes, Maubeuge-Val de Sambre and Compiègne.