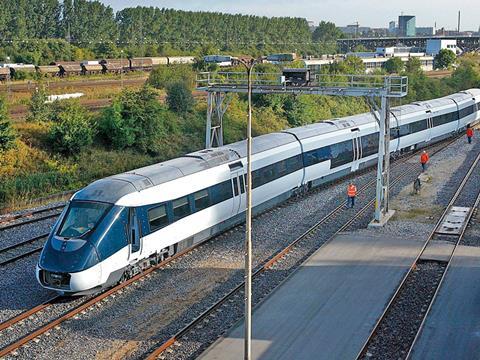 DENMARK: With effect from December 1 DSB has put the first of the troubled IC4 diesel multiple-units into regular passenger service. The trains have been carrying passengers on test services since August 7.
They are being deployed on a daily return service on the Aarborg - Århus - København route from Monday to Thursday. Because the units are currently unable to operate in multiple they will not be used on Fridays and weekends when extra capacity is required, nor in the last week of December and first week of January when Christmas traffic is highest. If a train is unable to run, an IC3 will be substituted.
In May DSB issued AnsaldoBreda with an ultimatum to have at least 14 functional trains in service by May 2009, or else it would seek compensation and cancel the DKr 5bn contract for 83 four-car units which is now more than five years behind schedule.
DSB said AnsaldoBreda has so far delivered five units which are functioning satisfactorily, and has allocated additional resources to troubleshooting. 'IC4 trains have some technical issues, but it is expected at this early stage in the delivery process', said DSB Chief Executive Søren Eriksen.