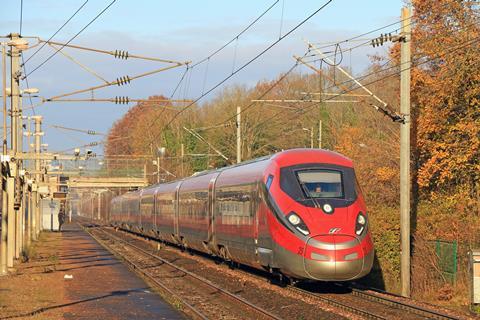 SPAIN: The ILSA-Trenitalia joint venture has pinpointed March 1 2022 as the start date for its Spanish open access services using a fleet of 23 Frecciarossa 1000 high speed trainsets.
In theory the Spanish inter-city passenger market opens to completion from the December timetable change this year, but the deferred start for ILSA-Trenitalia is necessary because its trains, designated Zefiro V300 by suppliers Bombardier and Hitachi Rail, are still being assembled. Although designed to be interoperable in Europe, the trains will still require a more extensive authorisation process than the batch used by Trenitalia in Italy.
The operator has been allocated indicative train paths on the following routes:
· Madrid – Córdoba – Sevilla;
· Madrid – Córdoba – Málaga;
· Madrid – Córdoba – Granada;
· Madrid – Cuenca – València;
· Madrid - Cuenca – Albacete – Alacant;
· Madrid – Zaragoza – Barcelona.
In Andalucía, ILSA-Trenitalia will compete with RENFE Viajeros on two routes linking Córdoba with Sevilla and Málaga where the incumbent provides PSO services. National competition regulator CNMC has allowed this on the condition that RENFE does not lose more than 2% of revenue generated by its PSO services on these routes. In addition, if RENFE Viajeros' farebox income falls by between 1% and 2%, ILSA-Trenitalia will have to show that more than 30% of its passengers are new to rail.