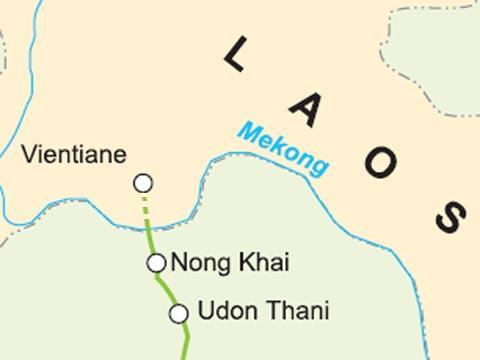 LAOS: Princess Maha Chakri Sirindhorn of Thailand presided over the inaugural cross-border rail journey into Laos on March 5. Following a ceremony at Nong Khai station, the princess travelled across the Mekong to Tha Na Laeng, where she began a two-day official visit to Laos.
The Thai-Lao Friendship bridge was opened in 1994 with provision for a future rail track. A contract for the construction of the 3·5 km metre-gauge line was awarded to Sermsanguan Construction Co in September 2006, with the 197m baht cost met by a 70% loan and 30% grant from Thailand to Laos. Work was completed in 2008, with test trains running in July.
Following the formal opening on March 5 State Railway of Thailand will operate two daily return trips, taking 15 min between Nong Khai and the freight and passenger terminal at Tha Na Laeng. The morning train into Laos and evening departure will include through coaches for Bangkok.