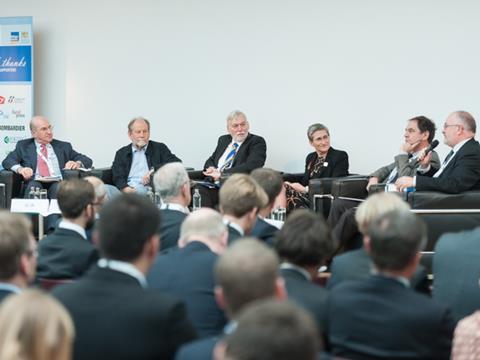 EUROPE: Industry leaders and policymakers from across the European rail sector will gather in Brussels on April 27-28 for the second European Rail Summit, organised by the Railway Gazette Group and hosted by the Representation of the Free State of Bavaria to the European Union.
With the provisional agreement of the wording of the market pillar of the EU's Fourth Railway Package on April 19 acting as a catalyst, the Summit begins on the afternoon of April 27 with a session examining the future of EU rail policy, entitled Towards a Single European Railway Area. Subsequent thematic sessions cover customer service in the passenger and freight markets, the rise of digital technology and its impact on innovation in rail, and the outlook for future investment in infrastructure.
Each session includes a series of keynote addresses and round-table panel discussions. Among the keynote speakers are European Transport Commissioner Violeta Bulc, François Bausch, Minister of Sustainable Development & Infrastructure in Luxembourg, and Josef Doppelbauer, Executive Director of the European Railway Agency.
By facilitating high-level discussions and ensuring substantive content, the Summit is intended to help shape the continent's railway sector and ensure that essential business objectives are recognised in future policy. At the same time, Europe's railways are part of a global industry, and the Summit reflects this by including guest speakers from outside Europe to offer a wider perspective on the challenges of the international railway market.
Full details of the programme.
While the Summit itself is attended by invitation, a free interactive live stream of the event enables viewers to watch proceedings and pose questions to the round table panellists in real time.
Register for the live broadcast.
If you are commenting or following proceedings on social media, please use the hashtag #ERS2016