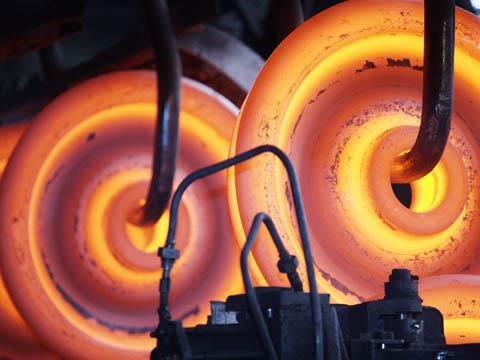 Knorr-Bremse has selected Budapest as the site of a new factory which will produce braking and air supply systems for rolling stock and other applications from the end of 2009. Production at the company's existing plant in the city will also be moved to the new site.
Faiveley is negotiating the purchase of South Carolina-based firm Ellcon-National. Founded in 1910, the US company produces braking, loading and other equipment for freight wagons, and stainless steel doors and windows for passenger vehicles.
Under Russian Railways' privatisation programme, Far Eastern Car Repair Co has bought the Buzluk and Pevelets wagon repair depots. Repair & Transportation Co won the bidding for the Cheremkhovo works, Transoil the Kuino site, and Armavir Heavy Engineering the Aravir plant. The Belgorod, Ardecha, Khovrino and Magadagachi plants failed to sell.
SKF has signed an agreement to construct a bearing factory in the Tver region of Russia. Production is expected to start in January 2010, supporting RZD in a switch from conventional axlebox roller bearings to sealed taper-bearing units.
On June 2 B3 Cable Solutions announced that it had completed the acquisition of the Nexans telecommunications and railway signalling cable business based at Santander in Spain.
On May 21 Bombardier Transportation and Transmash Holding signed an agreement to establish an equally-owned joint venture to develop locomotives with asynchronous traction equipment for the CIS market. The companies already co-operate in component production under a May 2007 agreement.
ABB Sécheron has signed five-year framework agreement to supply traction transformers to Alstom Transport. ABB will also provide design and research capabilities.
Hybrid and genset locomotive builder Railpower Technologies announced on May 26 that it is to construct its first assembly plant at Saint-Jean-sur-Richelieu, 25 km east of Montréal. Until now the company has subcontracted locomotive production. Funding for the factory and the production of additional demonstrator locos will be provided through a C$20m investment by the Ontario Teachers' Pension Plan and a C$2·5m contribution from the Québec government.
Travel trade booking system provider Amadeus has acquired a controlling interest in Onerail, which provides rail ticketing and reservation systems for travel agents.