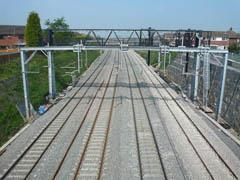 Twin City Signal has been acquired by Caterpillar subsidiary Progress Rail Services Corp. Services provided by Twin City Signal include the design of centralised traffic control systems, interlockings and level crossing equipment. It also performs preliminary engineering for commuter rail operators and upgrades freight yards.
Lloyds Register EMEA has acquired Scandpower, a Scandinavian risk management company with 250 staff specialising in the rail, aviation, nuclear, oil and gas sectors.
A £750 000 paintshop was formally opened at Wabtec Rail's Doncaster works in the UK on September 12, doubling painting capacity at the maintenance and refurbishment site. Wabtec has also installed a section of 25 kV AC overhead line to allow the testing of electric locomotives and multiple-units.
Scott Wilson has opened an office in Sydney, its second in Australia. The office will undertake work in the rail and port sectors, and its opening follows a successful first year at the Brisbane office which opened in September 2007. The company also has a project office in Perth.