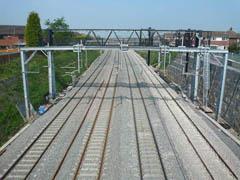 On January 1 signalling supplier AZD Praha became an associate member of the Unisig consortium, established at the request of the European Commission in 1999 to draft technical specifications for ETCS in collaboration with the European Railway Agency. AZD is the first new member since its formation, joining Alstom, Ansaldo STS, Bombardier, Invensys, Siemens and Thales.
Super Steel Products is to close its rolling stock plant in New York state in mid-April due to 'dramatic and unprecedented reductions and cancellations of orders by our customers in the freight locomotive, transit and transportation sectors'. The two Milwaukee plants will be unaffected.
On December 8 Wabtec Corp announced the completion of its $300m acquisition of Standard Car Truck (RG 10.08 p775). The deal was financed through a $200m term loan and a $300m revolving line of credit. Wabtec now has about $120m of cash and about $385m of debt, including $150m of bonds, on its balance sheet.
VolkerWessels bought joint venture partner Corus's 50% stake in GrantRail Group on November 26. The UK-based rail construction and engineering services group will continue to trade as GrantRail.
New York Air Brake Corp has acquired Anchor Brake Shoe Company, a US manufacturer of high and low friction composition brake shoes and tread conditioning shoes for locomotive and freight wagons. Anchors was previously part of Standard Car Truck.
Kyosan Electric Manufacturing is to sell Westinghouse Platform Screen Door equipment in the Japanese market, and in return certain Kyosan products will be marketed outside Japan by Knorr-Bremse under the WPSD brand.
Waste incineration and power generation company China Sciences Conservational Power has signed an agreement to acquire a 49% stake in Gofar Holdings, the owner of China Railway Logistics. CRL has acquired stakes in construction companies involved in the Zunxiao railway project.
Lloyd's Register said its income from rail, road and martime consultancy activities in the year to June 30 was down 2% on the previous year. European governments have reduced their public expenditure budgets as economic performance in the larger countries began to deteriorate, but Lloyd's Register believes public infrastructure developments are being delayed rather than cancelled.
MER MEC's French subsidiary Inno-Tech, which it acquired in August 2007, has been renamed MER MEC France.
Amsted Rail's telematics business Ionx has acquired Salco Technologies, which provides wagon tracking and condition monitoring equipment.
Envitech Automation Inc has sold its Envitech Communication passenger information systems business to Interalia, which has created Interalia Systems Corp as a wholly-owned subsidiary trading as Envitech Communication.
Compania de Transport Feroviar of Bucuresti has taken over German rolling stock manufacturer Fahrzeugtechnik Dessau, which had lodged an insolvency application on March 25 2008.
A partnership has been formed with Waggon Service which will enable Hamburg-based rolling stock leasing firm VTG to expand its maintenance support activities in Poland. Waggon Service is a subsidiary of Transwaggon, in which VTG has a 50% stake. VTG previously worked with Millsharp, which ceased operations with the retirement of owner Seiji Kamide at the end of 2008.