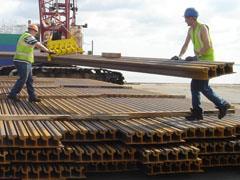 The ED Holding subsidiary of Slovak financial group J&T has purchased a 96% stake in Czech electrification equipment supplier Elektrizace Zeleznic for KC810m. EZ Praha recorded a pre-tax profit of KC200m on turnover of KC2·5bn in 2008. The remaining 4% is owned by Alexandr Fedorocko.
UCS Civils has launched a specialist rail division, targeting UK earthworks, drainage and bridge contracts.
US vehicle overhaul and refurbishment specialist Coast Engine & Equipment Company is expected to cease trading on July 3 due to a lack of orders resulting from the economic downturn.
Railway software services company RMI acquired 10East for an undisclosed price during April. Florida-based 10East produces a range of signal testing, inspection and planning software for the rail industry.
Transmash Holding has bought a 51% stake in Russian wagon and coach builder TMKH Vagonostroenie for an undisclosed sum, according to local reports.
Engineering consultancy Faber Maunsell Ltd changed its name to Aecom Ltd with effect from May 4, completing its full integration into the global Aecom group which encompasses 43000 people in over 100 countries. 'We will be able to offer our clients even greater access to a huge range of integrated resources and world-class expertise, whilst still retaining the high levels of care and quality for which we have always been known', said Ken Dalton, Chief Executive of Aecom Europe.