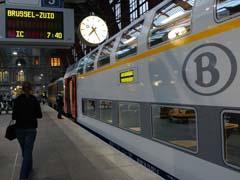 BELGIUM: Infrastructure manager Infrabel has initiated a public debate on ways to expand the capacity of the busy Brussels Junction railway linking Nord and Midi stations through the heart of the capital. Director-General Luc Lallemand says the additional capacity will be needed by 2020 at the latest, and he puts the likely cost at 'not less than €1bn'.
The existing six-track cross-city line took more than 40 years to complete, and was finally inaugurated in 1952. It is 4 km long, with around half in tunnel, and serves three intermediate stations at Congrès, Central and Chapelle. According to Lallemand, the line is used by more than 1 200 trains per day. Brussels Central is Belgium's busiest station, handling more than 70 000 daily passengers compared to 55 000 at Midi and 35 000 at Nord.
Although designed for 3 min headways on each of the six tracks, the Brussels Junction line currently handles up to 170 trains/h at the busiest points of the morning and evening peaks. Infrabel permits trains to run at 2 min headways with 1 min stops at the stations, but reserves one blank path every 15 min as a performance cushion.
With passenger traffic on the national network climbing rapidly in the past decade to exceed the levels of the early 1960s, operator SNCB has already invested in large fleets of double-deck stock to maximise train capacity.
Infrabel says additional paths will be needed to accommodate the liberalisation of the international passenger market in 2010 and the completion of the Brussels RER network in 2016. The RER plan includes upgrading the capital's orbital lines 28 and 26 plus construction of the Josaphat tunnel serving the northeast of the city, but these are not expected to provide much relief for the central core.
Lallemand said on September 25 that he would like to see a wide-ranging debate, suggesting that there are already 'at least 20' different proposals. He hopes that Infrabel will be able to shortlist two or three projects within 12 to 18 months for a more detailed engineering and feasibility study.
Options that have been floated include the boring of a new cross-city tunnel beneath the existing line, adding low-level platforms beneath Brussels Central, or a direct line connecting the international platforms at Midi to the divergence of the northern and eastern high speed corridors (26N and 36N) at Schaerbeek.