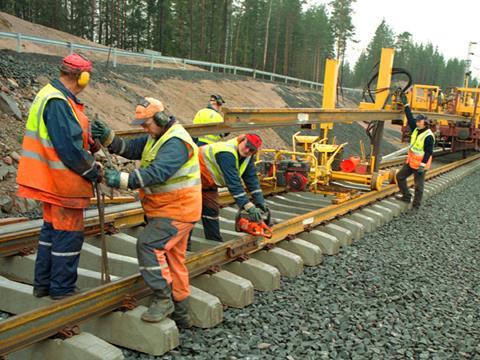 EUROPE: Two of the Nordic region's railway infrastructure authorities are to disappear in 2010, as their respective governments move to consolidate their transport administrations.
First to disappear will be Finnish rail infrastructure manager RHK, which is to become part of a new Finnish Transport Infrastructure Agency from January 1. Liikennevirasto will merge RHK with the core parts of the national road administration Tiehallinto and the waterway management functions of the Finnish Maritime Administration.
According to the government, 'transport and infrastructure will in future be viewed more clearly as a whole that serves the needs of citizens and business.' Building on extensive experience among the staff from the three bodies, the new agency is expected to bring synergies in the future development of Finland's transport network. The three bodies have been working closely together for the past year, preparing the organisational structure for the new agency, sharing support systems and developing a new operating model so that the agency can get off to a smooth start.
The Ministry of Transport & Communications has invited applications for the post of Director General of the Finnish Transport Agency, with a closing date of November 30. Other executive and managerial posts will be filled internally, as most staff will transfer to the agency and continue in their present roles; the organisation will have about 700 staff in total.
For the time being operations will continue in the existing buildings, but the intention is that the agency will move to a unified headquarters in 2011. However, the ministry has decided to relocate about 130 people to Lappeenranta by the end of 2015, and that eventually 47% of Liikennevirasto staff will work outside the Helsinki metropolitan area.
The consolidation of infrastructure managers will be mirrored in the safety sector, with the merger of the Finnish Rail Agency, Civil Aviation Authority and the maritime safety functions of the Maritime Administration to form the Finnish Transport Safety Agency from the beginning of 2010.
Meanwhile, the Swedish government confirmed in November that rail infrastructure authority Banverket is to be merged with national roads agency Vågverket from April 1 2010, creating a unified transport infrastructure authority. As part of the changes, the infrastructure maintenance business Banverket Production, which already undertakes external work under contract to be separated from the operations and management functions to become a separate state-owned company.