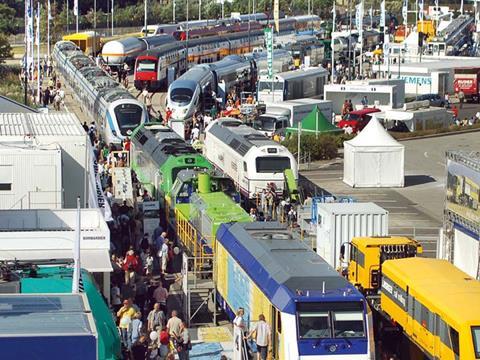 INNOTRANS: Held every two years, InnoTrans is now established as a major international showcase for the railway industry. This year's event will be the largest yet, and over 1200 exhibitors are booked to attend. More than 35000 visitors from around 35 countries are expected at the Berlin trade fair grounds on September 21-26.
The exhibition halls and outdoor display space with 2 km of track will cover an area of more than 50000m2. The Rail Technology section of InnoTrans will feature passenger and freight rolling stock, with the locomotives on display including examples of the Siemens EuroSprinter and EuroRunner families and a Vossloh Am843. Suppliers of components and vehicle services will be well represented, with a prototype Leila bogie on display. K Industrier will be launching a new wagon for the European market, and Tatravagónka will be bringing a container wagon from Slovakia. Urban railways are not being overlooked, with Bombardier displaying a Flexity tram from Frankfurt and PESA an EMU for suburban services in Warszawa. Leipziger Fahrzeugservice Betriebe GmbH will be promoting its low-cost Leoliner tram.
Bahnbau will focus on infrastructure, and the Association of German Railway Engineers will be holding a conference looking at topics including electrification and vehicle technology. Transport IT will be centred on traffic management, communications and data processing, while the Public Transport hall will provide a focus for suppliers of station facilities. The Services area of the show will be the home of consulting, scientific and research organisations.
Germany will be well represented at InnoTrans, but the exhibition is truly international with 40% of the floor space taken by foreign companies. Emphasising this international nature of the exhibition, Bombardier will be displaying a multi-system locomotive built for use between Switzerland and Italy. The number of Asian and American exhibitors is significantly more than in 2002, including Korean firm Rotem and the USA's GE Transportation Systems exhibiting for the first time. Hitachi and Kawasaki Heavy Industries will be coming from Japan, and the Taiwanese Railway Industry Association has a national stand. The Danish RailWay Group will represent 30 members, and a railbus built by Polish firm PESA for use in Ukraine will be on show.
Accompanying the fair is the InnoTrans Convention, which includes conferences on interoperability and investment organised by the German Transport Forum and the Association of German Transport Undertakings. The 3rd East European & Asian Rail Summit will take place on September 20-22, and on September 19-21 UITP will be holding its second Regional & Suburban Railway Conference, taking the theme 'a decade of regional railway revival: what next?'
Meet the Railway Gazette team at InnoTrans on stand 119 in Hall 2.2