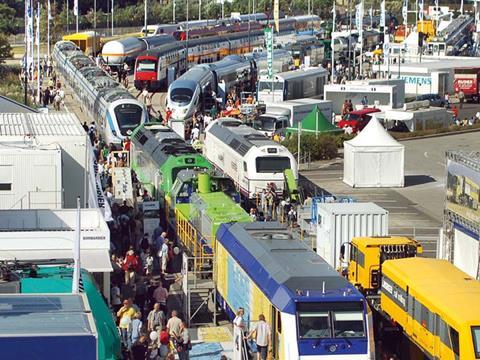 INNOTRANS: Held every two years, InnoTrans is firmly established as a vital showcase for the railway supply industry in Europe and beyond. The exhibition continues to grow, and this year's 10th anniversary event at the Berlin trade fair ground from September 19 to 22 is once again the biggest InnoTrans ever.
More than 1500 exhibitors from 39 countries will be travelling to InnoTrans this year, and the halls will have around 92 000m2 of exhibits, up 12 000m2 on the previous InnoTrans event in 2004.
The Messe Berlin site includes 2 km of railway sidings, which will be used to display the complete spectrum of railway vehicles from high speed trains to road-rail maintenance machinery. Railway Technology will be the single largest themed sector of the show, including 20 000m2 of outdoor display site, more than twice that of the previous exhibition in 2004. Inside the exhibition halls there will be a vast array of subassemblies and components from suppliers worldwide.
A dedicated section of the exhibition is being devoted to over 100 suppliers of train Interior products for the first time this year, following requests for manufacturers keen to maximise their synergies.
Public Transport will be the focus for suppliers of passenger information systems, fare collection equipment, station facilities and numerous other products which help make journeys run smoothly. Transport IT will focus on traffic management, communications, data processing and freight logistics, while Services will be a source of information on consultancy, financing, science, research and industry associations.
Another section of the show will highlight the latest products and services for Infrastructure construction, maintenance and modernisation. A new addition to the programme is the Tunnel Construction sector, where products on show will include communications, ventilation, energy supplies and illumination.
Taking place in conjunction with the trade show is the InnoTrans Convention and Dialogue Forum, sponsored by the German Transport Forum, Association of German Transport Undertakings, Unife and the German Rail Industry Association. Deutsche Bahn is organising a European & Asian Rail Summit, offering opportunities for transport ministries and general managers of central European and Asian rail transport companies to meet.
Meet the Railway Gazette team at InnoTrans, on stand 101 in Hall 2.2