INNOTRANS: Companies from 41 countries will be represented at this year's exhibition.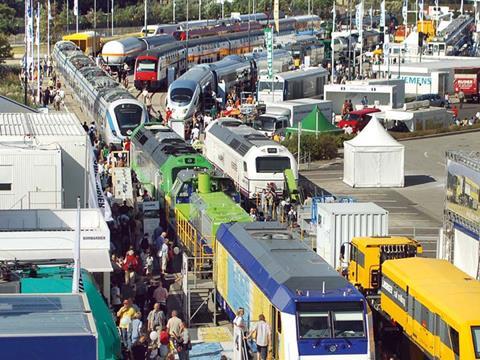 Underlining its status as the railway supply industry's premier trade exhibition, the biennial InnoTrans event is taking place at the Berlin trade fair on September 23 - 26 2008.
The event has grown steadily, both in terms of area and exhibitor numbers over the 12 years since it moved to Messe Berlin. Some 1 900 exhibitors from 41 countries are registered for this year´s event, spread across an area totalling 150 000 m². InnoTrans 2008 will break new ground by including the halls at the northern edge of the fairground to occupy all the available exhibition space. The expansion will give visitors the opportunity to undertake a complete circuit of the halls, and has allowed Messe Berlin to open up the second main entrance at the northern end of the site to offer additional access to local transport.
Demand for external exhibition space continues to increase markedly, and for 2008, a further 1·5 km of track has been added to the 2 km provided in previous years. This will allow a wide range of rolling stock, infrastructure maintenance equipment and signalling technology to be displayed.
InnoTrans begins on September 23 with an opening conference focusing on the industry´s response to climate change, whilst the InnoTrans Convention will provide a series of themed presentations and discussion groups over the course of the next three days.
The growth in exhibition space has permitted the organisers not only to give particular sub-sectors of the industry a higher profile, but also to group exhibitors thematically within each hall. In the largest sector of the show, Railway Technology, the traction system providers will be located close to each other, as will suppliers of electrical sub-systems and vehicle components.
The Railway Technology halls will be arranged around the Summer Garden at the heart of the grounds, permitting a larger area to be devoted to Public Transport and Interiors.
The Public Transport halls will reflect the increasingly global demand for urban mobility, with half of the 260 exhibitors coming from outside Germany. Covering an overall display area of 14000 m², this sector includes passenger information systems, fare collection technology, traffic management systems and a range of consulting and engineering services. Meanwhile, the Interiors display will be 50% bigger than two years ago, covering a total of 9000 m².
The second-largest specialist sector is Railway Infrastructure, where extra floor space has been allocated to accommodate an increase in exhibitors from 250 two years ago to more than 300 this month. The dedicated Tunnel Construction zone launched in 2006 will feature once again, and Stuva is organising an International Tunnel Forum for specialist players in this field. The Tunnel Const­ruc­tion stands will be located between the Rail­way Tech­nology and Infrastructure halls, reflecting the shared expertise that exists across these sectors of the industry.
Railway Gazette International is the official international media partner of InnoTrans. Meet the team at Stand 221 in Hall 1.2