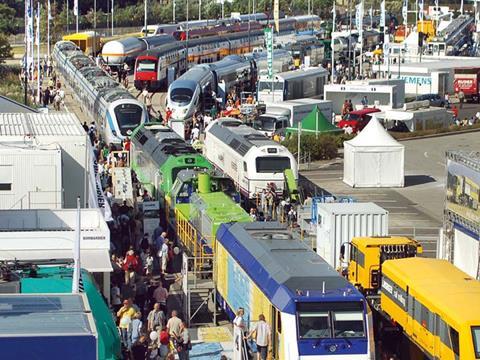 GERMANY: With more than 2000 exhibitors, this year's InnoTrans trade fair in Berlin will be the biggest biennial event yet.
Taking place from September 21 to 24, the show will occupy 30 halls and almost 5 km of tracks, with a wide range of rolling stock and maintenance equipment on display. More than half of the exhibitors are coming from outside Germany, including a growing number from Asia and North America.
As in previous years, the show is split into five themes: Railway Technology, Interiors, Infrastructure, Public Transport and Tunnel Construction. Railway Technology is the largest sector with more than 1000 exhibitors, but Interiors in Halls 1.1 and 3.1 is growing rapidly, with 22% more participants than in 2008.
The outside tracks will once again be a major attraction for more than 65000 visitors, with high-profile exhibits including Alstom's ETR610 New Pendolino and Siemens' Velaro D. Urban rail vehicles will include a DT5 metro trainset for Hamburg, the London Underground S-Stock, AnsaldoBreda's driverless metro trainset for Roma Line C and Pesa's ELF EMU from Poland.
Major railways will have stands in Hall 18, including DB, ÖBB and RZD, as well as MÁV and ZSSK Cargo of Slovakia. Railway Gazette International will also be here, together with train leasing and maintenance companies.
The Career Point service designed to attract people into the rail sector will be found throughout the show and the concept is being strengthened this year with a dedicated Career Point Pavilion.
Conferences and events are taking place under the banner of the InnoTrans Convention, including Dialogue Forum sessions organised by the German Transport Forum, the Association of German Transport Companies (VDV), German rail industry association VDB and Unife. DB AG will again be hosting the Europe-Asia Rail Summit, bringing together government and railway executives.
Railway Gazette International is official international media partner for InnoTrans. Meet the team at Hall 18 Stand 131