The world's largest rail trade fair returns to Berlin on September 18-21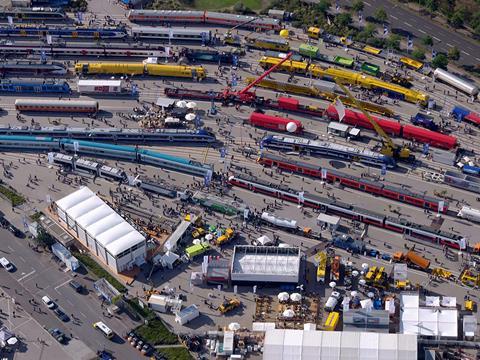 INNOTRANS: The 2018 edition of InnoTrans will take place at Messe Berlin on September 18-21. As well as 3 000 exhibitors, two-fifths of them from Germany, and 140 vehicles on the outdoor display, more than 100 products will make their international debuts.
Demand for space at this year's exhibition has outstripped supply, organiser Messe Berlin announced back in January, with more than 100 more 'main exhibitors' registered compared to the previous event. This year, 224 companies will be exhibiting for the first time, with more than 60% of exhibitors coming from abroad, with New Zealand represented for the first time.
In order to satisfy the high demand, Messe Berlin is building a new hall known as hub27 which will create an additional 10 000 m² of covered space at the fairground. However, this will not be ready before the 2020 show, meaning that for InnoTrans 2018 the outdoor display area will be reduced in size. Nevertheless, track space for rail vehicles will not be affected by the building work.
Meanwhile, Messe Berlin says that it is working to optimise the available exhibition space to cater for the increased demand. Catering facilities have already been relocated outside the display halls to maximise the space available.
As well as the traditional display of trains and trams, there will be an outdoor bus display, focusing on the switch to electric vehicles, with a 500 m long demonstration track augmenting the static display.
A total of 23 national and international trade associations from countries including Australia, the Czech Republic, Denmark, Japan, Romania, Sweden, the UK and USA will be presenting their members' capabilities.
Almost half of the 70 members of Spanish industry association Mafex will be attending this year. The USA's Railway Engineering-Maintenance Suppliers Association will be travelling from further afield, with its USA Pavilion providing US exhibitors with a turnkey service designed to 'drastically simplify' the process of exhibiting at the event.
The programme of supporting events alongside the main exhibition will provide a wide range of opportunities to find out about the latest trends in products, services and user experiences. On September 19 the International Design Forum organised by the International Design Centre Berlin will hold an event called 'From interior visions to extended mobility — innovative transport solutions for a changing world'.
On the morning of September 20 a Dialogue Forum organised by UNIFE and Unisig will look at 'ERTMS, the backbone of the digital railway', considering developments such as ATO, Hybrid Level 3 and cybersecurity threats to signalling systems.
On the same day the Public Transport Forum organised by ETC Transport Consultants and Planungsbüro für Verkehr will look at 'Digitalisation in public transport — aspects of the present and the future'.