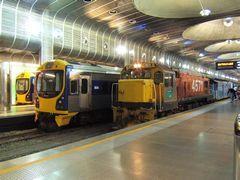 NEW ZEALAND: International rail consultancy Interfleet Technology has opened a second office in New Zealand, serving clients in the Auckland area.
The office is headed by Principal Consultant and rail systems integration specialist Tom Salt, who has transferred from the consultancy's head office in the British city of Derby.
'The opening of our second office in New Zealand underlines our ambition and commitment to provide first-class consultancy across projects in New Zealand', said Wellington-based Regional Manager Ross Twyford.