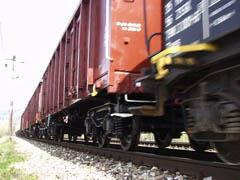 ARMENIA: Construction of a rail link to Iran is likely to be pushed forward with Russian backing, following the recent conflict between Russia and Georgia. At a meeting in Sochi in September, Russian President Dmitry Medvedev discussed the project with his Armenian counterpart Serch Sarkissjan as part of a co-operation agreement between the two countries.
RZD subsidiary South Caucasus Railway took over the operation of the Armenian rail network on June 1 under a 25-year concession (RG 7.08 p406), but Armenia's only active international rail link runs via Georgia, as the lines to Turkey and Azerbaijan are out of use.
Initial proposals for a line into Iran were first floated in 2006, and feasibility studies for three possible alignments are currently underway. One would start from Eraskh on the line to Ararat, one from the current terminus at Vardenis and the other from Gagarin, to the northeast of Yerevan. Transport Minister Gurgen Sargsyan prefers the Gagarin option, which is the shortest at 397 km and would also serve the cities of Gavar, Martuni and Jermuk in the centre of the country.
The link would require around 80 km of new construction in northwestern Iran, running from the Armenian border on the Araz river to Marand on RAI's Tabriz - Djolfa line. According to the minister, the line is expected to cost around US$2bn. Iran and Armenia have agreed to form a working group, in which the Russians may be invited to participate.
RAI Managing Director Hassan Ziari says the Iranian railway administration has allocated 1 000bn rials towards the Qazvin - Rasht - Anzali rail link, following a meeting of Iranian, Russian and Azerbaijani representatives on the trilateral joint venture at Baku in June. According to RZD's Deputy Director, Strategy, Sergei Stolyarov, the consortium being formed to build the line should become operational this year.