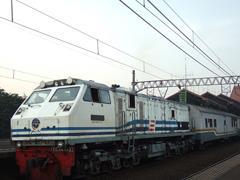 INDONESIA: Work is expected to begin by the end of the month to increase capacity on a congested mixed-traffic corridor in the suburbs of Jakarta.
Central to the project is the four tracking and resignalling of the current 32 route-km double-track alignment between Manggarai and Cikarang. State railway PT KAI has had proposals in place for the work for eight years, but progress has been stymied by funding and land acquisition difficulties.
The Ministry of Transportation announced on October 9 that US$228m of soft loans from Japan International Co-operation Agency had been finalised to fund the construction work, and a contract with a joint venture of Sumitomo Corp and Mitsubishi Heavy Industries Ltd was due to be signed this week. Civil works are to be managed by Mitsubishi in two phases, the first covering a 15 km section from Manggarai on the southern edge of Jakarta to Bekasi, which is currently the limit of PT KAI's Jabotabek electrified suburban network. The remaining 17 km to Cikarang would then be four-tracked and electrified, allowing suburban services to tap into strong demand in outlying residential areas. Completion is expected by the end of 2016.
In total, four work packages are included in the contract, including enhancement of overhead electrification, power supply, signalling and telecoms equipment plus remodelling work at some intermediate stations.
According to Railways Minister Tandjung Inderawan, the project should enable dedicated tracks to be created to separate freight and passenger services. 'We are currently accelerating the whole four-track project because this will help boost the economy and reduce logistics costs across Java', he explained.
The enhancement project will also deliver additional capacity to support the US$1·1bn Trans-Java double-tracking project, which is expected to be completed by the end of next year. Inderawan reported that work to double 425 km of single line was approximately 40% complete, with the Semarang – Surabaya section still to be treated.