SOUTH AFRICA The return of passenger and freight services on a 282 km branch line in Eastern Cape province is part of a balanced strategy; the railway is driving local economic development, which in turn generates enough traffic to keep the railway sustainable. Rollo Dickson reports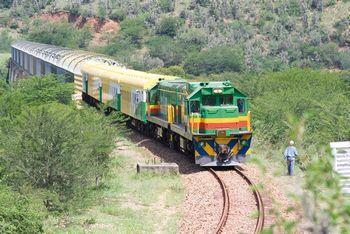 In a blaze of publicity, one of South Africa's most scenic branch lines was formally re-opened on March 1 by Transport Minister Jeff Rabebe and Eastern Cape Province's Minister for Roads & Transport Thobile Mhlahlo. In an era of cutbacks and consolidation, the restoration of the 282 km Amabele - Mthatha railway is a welcome reminder of the important role that rail can still play in supporting regional communities.
The initiative has not come from the national government but is being driven by the Eastern Cape provincial administration, with its primary aim being to reduce traffic on the parallel highway. The formal launch of Kei Rail was marked by the re-introduction of passenger services after an absence of 20 years, but regular freight traffic is expected to resume before the end of 2008.
Few branch lines in the country are currently operational, reflecting the South African government's policy of concentrating on the principal freight corridors. This was emphasised by the renaming of national operator Spoornet as Transnet Freight Rail last year and the transfer of responsibility for the remaining inter-city passenger services to the Department of Transport.
Serving the region formerly known as Transkei, the branch starts from a junction with the main line between East London and Springfontein at Amabele, 76 km inland from the port. It runs parallel to the coast through difficult terrain, resulting in a sinuous route largely limited to 50 km/h. Operationally the route is extremely demanding, descending 520 m in 38 km to cross the Great Kei River on a 392 m, nine-span steel bridge and then climbing tortuously out of the deep valley at a ruling grade of 2·5%, before dropping steeply again into the Mbashee river valley before reaching Mthatha.
The Transkei line was opened in 1916. Surveys were undertaken in 1921 and 1975 for a 200 km northward extension to Kokstad, which would connect with another 266 km branch leading to Pietermaritzburg on the Durban - Johannesburg route, but this was never built. The line lost its passenger trains in 1988, although freight service lasted until 2003 in the face of worsening infrastructure condition and steadily declining traffic volumes.
Economic revival
The Eastern Cape Department of Roads & Transport has invested around R160m in reviving the railway, and is the sole shareholder in Kei Rail.
Some 40% of the Eastern Cape's population lives to the north of the Great Kei, and this region is becoming increasingly important for economic development.
Ecdort's Chief Director, Freight Rail & Maritime, Nkululeko Poya says that rail is a key element in the Kei Development Corridor initiative. 'We need to provide a cheaper movement of goods into the former Transkei and a passenger service to give people affordable and safe transport. But we realised that to get the operation running we needed other industries to ensure that the railway is sustainable.'
The area has much open land suited to agriculture and forestry. With strong government encouragement, projects are underway for growing canola, maize and soya, plus feedstock for biofuel production. Inbound goods like cement products, currently distributed by road over long distances from main line railheads such as Queenstown, also offer potential traffic.
In assessing the likely viability of the project, Ecdort consulted with businesses and other local stakeholders. The municipalities along the line all bought into the process, and the department is working to ensure better integration of the road and rail networks. Poya says it is immaterial to him whether money is invested in rail or road infrastructure. 'Where I sit, I am in the best possible position to evaluate the cost competitiveness of different transport systems. The key criterion is to get goods to move, and the question is which investment will give me a better return for my Rand? At present, rail presents a very promising scenario for the future.'
In fact, feasibility studies for reviving the railway had begun as long ago as 1998 with an assessment by German consultants. Local firm Jeffares & Green then took over, carrying out a detailed feasibility assessment. This led to the start of restoration work in 2002, even before freight operations had ceased.
In view of declining freight volumes, Spoornet had cut maintenance to a minimum, so much effort was required to restore the infrastructure. Many of the wooden sleepers had decayed; every third one was replaced, and the ballast replenished. The slopes of several cuttings had slipped onto the track, the steel bridges needed extensive attention and stations had been badly vandalised. In total R92m was invested in the infrastructure between 2002 and 2004.
Operations resume
With restoration of the line well underway, Ecdort brought in Sheltam Grindrod last year to start a three-month period of test operation. This ended in November, and in January Ecdort made a formal application to the Rail Safety Regulator to re-open the railway. Licences were issued in February for ?Ecdort to act as network operator, Sheltam Grindrod as train operator and Sarcc as station operator. Consultancy Railfocus has been contracted to provide management support for the train operations
Sheltam Grindrod has supplied two ex-Spoornet Class 33 diesel locos to operate the line, and will provide additional motive power. The company has also loaned half a dozen coaches until Kei Rail's own fleet is ready. Transnet Rail Engineering is refurbishing 20 ex-Spoornet coaches at its Salt River and Koedoespoort works, with the first due to be delivered at the end of May. More are to follow, and Kei Rail expects to have 55 vehicles available by the end of 2009. TRE is also overhauling container wagons and other freight vehicles for Kei Rail.
The initial passenger services run once each way per day on Saturday and Sunday, leaving Amabele at 07.00 and Mthatha at 07.30 and taking 10 h for the journey with five intermediate stops. This timetable reflects a specific local requirement. Road traffic between Mthatha and East London is particularly heavy at weekends, as many local people work in East London during the week. For the most part they have traditionally relied on minibus taxis with a poor safety reputation.
As the refurbished rolling stock arrives, Kei Rail expects to step up the level of service and re-open further stations along the route. From August 1, a daily service will be introduced, together with an overnight service on Fridays. Ideally, Ecdort would like the passenger trains to run through to East London, but for the present, a bus connection from Amabele is being provided, which is included in the train fare. The standard fare is R30, which Poya says is based on the rates charged by national operator Shosholoza Meyl; by comparison, the taxi fare for the same trip is around R80.
Ecdort would also like to see the journey time reduced to around 5 h, which is comparable to road. Poya says 'we are engaging vigorously with consultants', adding that 'while the scope for enhancement of the infrastructure is limited, we are looking to improved rolling stock technology to help us speed up our service.' As the line traverses some of the most scenic landscapes in South Africa, Kei Rail is also investigating the strong potential for tourist traffic.
With passenger services operational, Kei Rail is now ramping up for the resumption of freight traffic before the end of 2008. 'Within the next four years, we expect to bring the line up to a million tonnes a year', says Poya. 'In terms of further growth, as soon as people see railways as a reliable service, expansion is sure to pick up', he believes.
In particular, Kei Rail is looking to grow its market share in sectors where the freight carried is not particularly time-sensitive. One of the strong advantages it sees is that rail is safer than road. Chipboard manufacturer PG Bison is undertaking a joint study with Kei Rail to establish how its handling-sensitive products can be moved more cost-effectively by rail.
Further reopenings to follow
Ecdort hosted a conference in mid-May on rail revitalisation, where it announced plans to revive passenger services on other lines in the region. Work is already in progress on renovation of the 140 km line running west from Blaney, 51 km from East London, to King William's Town and Alice, the home of Fort Hare University. This route continues a further 226 km to Cookhouse on the main line running north from Port Elizabeth, but passenger trains were withdrawn many years ago.
The province recently agreed to subsidise local passenger and tourist services operated by the independent Apple Express group on part of the 610 mm-gauge line running west from Port Elizabeth to Avontuur, which lost its regular passenger services and much of its substantial fruit traffic to road hauliers several decades ago.
To meet its future staff requirements, Ecdort plans to establish a rail academy for drivers, conductors and train managers, together with maintenance staff, engineers and track specialists. Given the stimulus to the local economy, Poya estimates that 'some 20 000 jobs will be created through direct and indirect involvement with Kei Rail.'
CAPTION: A rake of former Spoornet vehicles has been repainted for the start of Kei Rail trains pending the completion of refurbishment of a fleet of dedicated cars.
CAPTION: The stations along the 282 km line have been extensively refurbished, having suffered from vandalism in the period that the line was out of use.
CAPTION: The line crosses two major rivers, the Kei and the Mbashee. Trains face steep gradients in traversing these valleys, and sharp curves contribute to a 10 h end-to-end journey time.
CAPTION: Ecdort's Chief Director for Freight, Rail & Maritime, Nkululeko Poya, expects Kei Rail to create 20 000 jobs in the region.