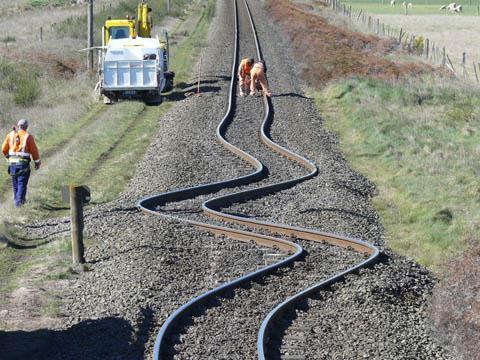 NEW ZEALAND: Rail services around Christchurch were restored three days after a magnitude 7·1 earthquake hit the Canterbury region at 04.35 on September 4. The earthquake caused a 22 km surface rupture and up to 4 m of horizontal displacement, with total property damage estimated at NZ$4bn.
KiwiRail Network established that the main damage to rail infrastructure was to 4 km of track and bridge abutments in the Kaiapoi area, and between Rolleston and Darfield.
The Main South Line was reopened with a 40 km/h speed restriction on evening of September 4, with the Midland Line west of Otira reopening after inspection the following day. Main North Line services were reinstated on September 7, until which time freight was sent by road from Rangiora to Christchurch. TransAlpine and TranzCoastal passengers went by road until September 8, when the first trains were further disrupted by aftershocks.
KiwiRail played a key role in the response to the earthquake. A train carried 300 000 litres of fresh water to Christchurch, and the Interislander ferry made an extra sailing and used space freed by rail disruption to carry emergency supplies.
'It has been a true team effort and it is a tribute to everyone that by Sunday night we were close to being back in business again,' said KiwiRail CEO Jim Quinn. 'The focus was on those in the front line and they responded magnificently. But it is also important to recognise the contribution of the backroom people like the Network Train Control Centre and all the people who came in to advise or communicate with stakeholders.'