WHEELSETS: Having adopted a single brand for its wheels business last year, Interpipe is emphasising its broad geographical reach. KLW Sales Director Michael Iskov spoke to Nick Kingsley about M&A activity, investment plans and concerns about product approval.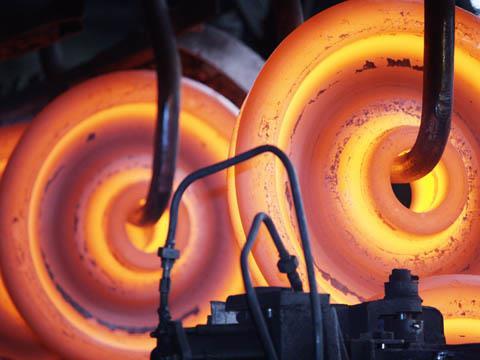 'Our customers are buying a service not a product,' emphasised Michael Iskov, Sales Director at KLW, the rail wheel and tyre division of the Ukrainian steel products group Interpipe. Iskov is convinced of the Dnipropetrovs'k-based company's standing as the world's biggest exporter of wheels, and a major branding exercise and investment programme is underway to ensure that the industry recognises it too.
Last year, the KLW brand, previously used in some national markets and by the group's sales offices, was adopted to encompass the company's entire portfolio. Given that Interpipe sells a range of around 240 wheel products and 80 types of tyre under the KLW brand to 60 countries on five continents, creating a uniform identity is not straightforward. 'It is a Darwinian process!' Iskov joked. 'We have been learning about this common identity for nearly two years and we are still learning, but we must provide a single level of service for all our customers, wherever they are.'
Iskov stressed that Interpipe is a truly global wheel producer, perhaps more so than some of its competitors in the sector. He is not unduly concerned by the recent merger of GHH Radsatz International and Valdunes, for example - 'this shows that the European sector is perhaps ripe for further consolidation'. Interpipe would consider mergers or acquisitions to bolster its market position, but this would be undertaken only in the context of adding extra production capacity to fulfil orders. In the meantime, Interpipe is to invest US$1·7bn in its Dnipropetrovs'k facility by 2012, involving the installation of an electric arc meltshop to improve the quality of billets.
Hot and cold
Iskov believes its production base in Ukraine gives the company a useful competitive advantage. It is located in a region with abundant raw materials and a workforce that benefits from 70 years of experience in wheel production, but it also offers good access to export markets in Europe, the Middle East and parts of Asia. KLW is already the largest foreign supplier of wheels into India, and it is working with Indian Railways to supply wheelsets to permit faster speeds and heavier axleloads.
In addition, Iskov feels the company's extensive export operation helps its research and development process. 'We have experience of supplying wheels for every climate, from -40°C in Russia to +40°C in Australia', he said. This has influenced the development of KLW's latest range of 'S-shaped' wheels, designed for axleloads of between 25 and 30 tonnes. Negotiations are underway to get this product approved in several European countries, including Germany - a process that Iskov expected to last for around two years.
Clearly, there is some frustration that the certification process for the lucrative European market remains highly complex. KLW's products have been certified by TÜV as meeting the DIN EN ISO9002 standard, they are approved under the EU's Technical Specifications for Interoperability, and the company is also working towards IRIS approval.
Yet this does not necessarily mean that because KLW's wheels are approved by EBA for use in Germany, gaining similar approval in another EU member state is any more straightforward, Iskov explained. But in five years' time, he is hopeful that KLW-branded wheels will have a significant presence in the Spanish, Italian and French markets.
Iskov concluded by returning to the global theme. 'It is a question of demand. Our global position means that when demand from the US freight market is weak, we see that demand in the European passenger sector remains strong. In a couple of years' time it might be the other way round - but either way, we remain in a healthy position.'