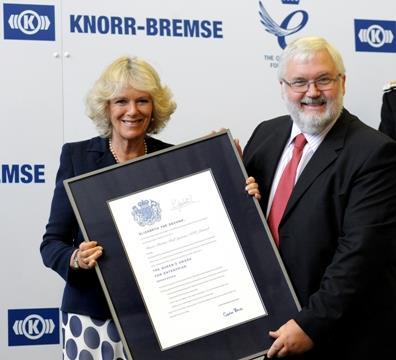 UK: On July 23 The Duchess of Cornwall presented Knorr-Bremse Rail Systems (UK) Ltd with the Queen's Award for Industry in the Innovation category, for the design, manufacture and sales of EP2002 Distributed Brake Control.
The Duchess toured the company's headquarters in Melksham, and spoke to the team responsible for the EP2002 family of 'intelligent' brake valves which provides distributed brake control by bogie, maximising braking performance across an entire train.
Following an introduction by John Bush, the Lord-Lieutenant of Wiltshire, the Duchess presented the Queen's Award to KBRS Chairman Paul Johnson,who said the event was a 'true recognition for the hard work and commitment of all the Knorr-Bremse staff based at Melksham'.