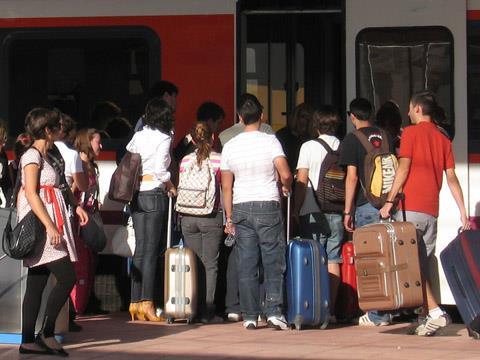 SPAIN: ADIF has awarded two contracts worth a total of €5892m for the construction of a new station at La Sagrera in Barcelona, located on the high speed line to the French border. Also served by regional and suburban trains and with parking space for 2500 cars, it is expected that the new facility will be used by up to 100 million passengers a year.
A contract worth €3664m to build the station itself has been awarded to a joint venture of Dragados, Acciona, Comsa and Acsa. The surface level will include a bus terminal, beneath which there will be 10 tracks of 1435 mm gauge serving five platforms each 12 m wide, four of which will be 400 m in length. Beneath this level, existing 1668 mm gauge tracks will be remodelled to provide eight tracks serving four 240 m long platforms.
New rail and road access routes to La Sagrera are to be provided under a separate contract worth €2228m, awarded to Rubau, Copisa, FCC Construcción and Ferrovial Agromán. Tracks are to be covered over for a distance of 220 m to create a linear park, and a stabling facility for 1435 mm rolling stock is planned on the eastern side of the station.
Launched on March 26, the 2300 tonne earth pressure balance TBM 'Barcino' (RG 10.09 p22) is now boring a 5097 m tunnel from La Sagrera towards Sants, with an internal diameter of 104 m to accommodate two 1435 mm gauge tracks. Work on the €1793m project is scheduled for completion in 2012.