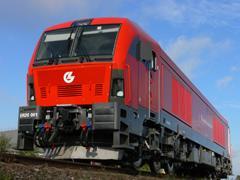 LITHUANIA: State railway Lietuvos Geležinkeliai has exercised an option for a further 10 Siemens ER20CF freight locomotives, which will be delivered between May and September 2010 in a deal worth more than €35m including maintenance.
The 120 km/h locomotives are an option on a €123m order for 34 placed in 2005; 20 of these have now been delivered.
The ER20CF is first six-axle member of Siemens' Eurorunner family of locomotives, and according to the manufacturer the 138 tonne locomotives are amongst the heaviest in Europe. They are used primarily on the transit corridor between Russia and the Baltic ports of Klaipeda and Kaliningrad, and in double-heading mode can pull up to 6 000 tonnes, 2 000 tonnes more than LG's previous heaviest trains.
The engine is rated at 2 000 kW, and Siemens claims a 40% improvement in fuel consumption compared to older LG locomotives.