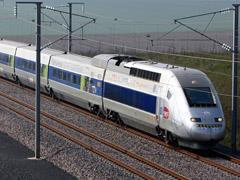 RESEAU Ferré de France has chosen three groups to compete for the PPP concession to finance and build the Sud Europe Atlantique high speed line from Tours to Bordeaux (RG 6.07 p363). The contract for the 300 km project is due to be signed in early 2009.
The Bouygues group consists of Bouygues Travaux Publics SA, DTP Terrassement SA, Quille SA, DV Construction SA, Bilfinger Berger BOT GmbH, Bilfinger Berger AG, Razel SA, Spie Batignolles SA, Seco Rail SA, Spie Rail SA, Alstom Transport SA, Barclays European Infrastructure Ltd, NIBC Infrastructure BV, Meridiam Infrastructure Managers SARL, HSBC Infrastructure Investments 2 SARL and Babcock & Brown Ltd. The Vinci group is formed of Vinci Concessions SA, Vinci SA, Sojas SAS, AXA Infrastructures Investissements SAS, FCPR AXA Infrastructure Partners and La Caisse des Dépôts et Consignations. Eiffage is the third contender.
The €7·2bn project forms an extension of the southern branch of LGV Atlantique, and enquiries for the Declaration of Public Utility are currently in progress. Completion is planned for the end of 2015, when Paris – Bordeaux timings will be cut to just over 2 h. Last month RFF, the government and regional authorities in Aquitaine and Midi-Pyrénées agreed that studies costing €76m should be commissioned for extension of the TGV network beyond Bordeaux to Toulouse and the Spanish border, with a view to work starting in 2013.
Construction of a 182 km extension of the western branch of LGV Atlantique from Connerré to Cesson-Sévigné, just east of Rennes, moved closer on October 30 when the Bretagne/Pays de la Loire LGV project was granted a Declaration of Public Utility. Costed at €2·5bn, this scheme will cut up to 37 min off current timings between Paris and Bretagne.
Two other LGV projects are now being considered. State Secretary for Transport Dominique Bussereau announced at the end of October that RFF will carry out a study for a line linking Paris with Orléans, Bourges and Clermont-Ferrand. This is intended partly as an alternative to the Paris – Sud-Est line – which is expected to reach the limit of capacity around 2015 – and partly as a means of accelerating economic development in the Auvergne region.
The second project, known as Transline, envisages an LGV linking Lyon and Caen via Clermont-Ferrand, Limoges, Poitiers, Nantes and Rennes, with a western branch from Limoges to Angoulême.
CAPTION: On November 5 Spanish national operator Renfe put its first Class 130 gauge-changing trainset into service on the Madrid – Gijón route. Talgo and Bombardier are supplying a total of 45 Class 130s under a contract worth €584·3m