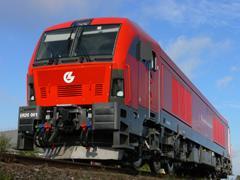 THE FIRST of 34 type ER 20 CF diesel-electric freight locomotives built by Siemens was formally handed over to Lithuanian Railways on October 5.
Lithuanian Prime Minister Gediminas Kirkilas, Minister of Transport & Communications Algirdas Butkevicius and LG Chief executive Stasys Dailydka were joined by Siemens Group President Hans Schabert for a demonstration run of the first locomotive.
At 138 tonnes the six-axle locomotive is one of the heaviest in Europe. It offers a starting tractive effort of 450 kN, and the manufacturer says that in double-headed operation the locos will enable LG to haul trains of up to 6 000 tonnes, an 50% increase on existing loads. They will be deployed hauling freight on the international corridor between Russia and the Baltic ports of Klaipeda and Kaliningrad.
The Siemens Transportation Systems plant in München is producing the 34 locomotives under a €123m contract awarded in 2005, which also includes options for a further 10 (RG 9.05 p527). The second loco is currently on its way to Lithuania, and the entire fleet will arrive by 2009.
The six-axle ER 20 design is derived from the manufacturer's Eurorunner family of diesel locos, and is the first with modern AC three-phase traction built to 1 520 mm gauge. The diesel engine has an output of up to 2 000 kW and the loco has a maximum speed of 120 km/h. Design features include single-manned multiple operation, low noise emission and a new front end which can easily be removed and provides improved safety performance.