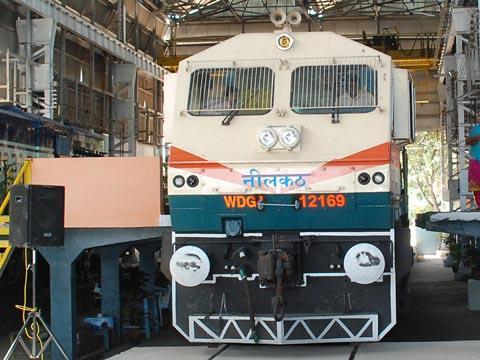 INDIA: The first diesel-electric locomotive fitted with Indian-designed IGBT traction converters and microprocessor controls has entered service following a month of intensive trials.
The Diesel Locomotive Works at Varanasi originally began production under a 1961 technology transfer agreement with Alco. A further agreement with EMD in 1995 led to increased local content, and since 2002 most components for the GT46 MAC derivatives have been made in India. However around 30% by value was still imported, including EMD control systems and Siemens traction converters.
Indian firms were invited to develop replacements in 2006, and Medha Servo Drives of Hyderabad was selected following the success of its control systems for Alco designs.
Medha has adopted IGBT technology rather than GTOs. Six inverters feed the traction motors independently, giving better wheel slip control and adhesion. Larger variations in wheel diameter are possible, and failures only affect one axle. Modern controls have allowed the WDG4 locomotive to be uprated from 4 000 to 4 500 hp
Further enhancements under development include wireless distributed power control, TFT driver display screens, remote monitoring and fuel saving measures such as automatic engine start/stop and auxiliary power units.
'We are challenging imported technologies not just to emulate but to improve, excel and create better products', said Railway Board Member R K Rao.