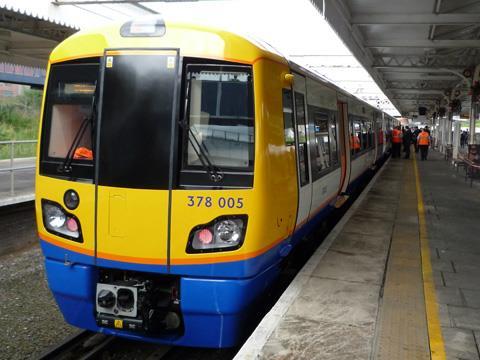 UK: London Overground is to put the first Bombardier Class 378 Electrostar high density inner-suburban EMUs into revenue service on July 20, following a formal launch by Mayor of London Boris Johnson on July 13.
Bombardier's Derby plant has delivered the first five of 24 dual-voltage 750 V DC/25 kV 50 Hz EMUs for the North London and West London lines, following delays relating to production problems. Each unit must complete 3 200 km of fault-free running before entering service. The remaining sets are expected to arrive fairly rapidly over the next few months.
Describing the build quality as 'absolutely excellent', TfL London Rail Managing Director Ian Brown told Rail Business Intelligence he expected a 'wow factor' when passengers saw the new units and benefited from faster boarding times. 'We can't wait to get them in', he added, confirming that the strong increase in ridership on London Overground services had levelled off 'as passengers simply could not get onto the busiest trains'. Further growth is expected to follow the opening of a new station at Imperial Wharf in September.
With longitudinal seats and wide gangways, each three-car Class 378 can carry 10% more passengers than the Class 313 EMUs currently in use. They will be lengthened to four cars from mid-2010 onwards, lifting total capacity to around 700 passengers per train. Platform lengthening work and repairs are being undertaken as part of the £326m North London Line infrastructure upgrade programme.
The 24 dual-voltage Class 378s are to be followed off the production line by 20 DC-only units for use on the extended East London Line and another 10-unit growth build, giving a total fleet of 54 four-car units.
The trains are being bought by the QW Rail Leasing consortium of National Australia Bank's nabCapital division and the SMBC Leasing subsidiary of Sumitomo Mitsui Banking Corp. They will be leased to Transport for London, which will then make them available to operating contractor LOROL.