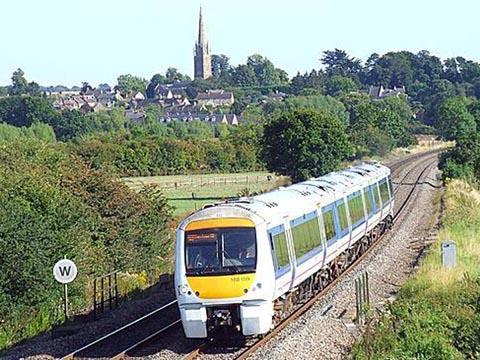 UK: On January 6 Chiltern Railways applied for Transport & Works Act legal powers for the second phase of its £250m Evergreen 3 expansion project, which will enable the operator to provide services between London Marylebone station and Oxford in competition with the First Great Western route from London Paddington and high-frequency coach services on the M40 motorway.
Phase 1 of Evergreen 3 is already underway; this will see Chiltern's London – Banbury – Birmingham route upgraded for 160 km/h running by 2011. The aim is to cut journey times by 20%, allowing Chiltern to compete more effectively with services on the West Coast Main Line.
Under Phase 2, a new chord will be built at Bicester to connect the Chiltern Main Line with an existing branch from Oxford, which is to be completely rebuilt and re-doubled to permit 160 km/h running. A new station will be built at the Water Eaton Parkway park-and-ride site on the northern outskirts of Oxford, and capacity increased at the city's main station.
Chiltern's previous Evergreen 1 and 2 capacity enhancement projects were privately funded, but the economic crisis has meant that bank finance is no longer available and as a result the operator has reached agreement for the cost of Evergreen 3 to met by infrastructure manager Network Rail. On completion of the work, Chiltern will transfer the assets to NR, which will make a 6% return on its investment over 30 years through Chiltern and its successor franchisees paying a 'facility charge' on top of the usual track access fees.
BAM Nuttall has been appointed as main contractor for the work, with Jarvis and Atkins as specialist subcontractors. Signing the contract and starting the legal process for Phase 2 have triggered a conditional extension in Chiltern's current franchise agreement, which will now run for its full 20-year term to 2021; insiders suggest that a further extension may be possible.
Unveiling the government's proposals for awarding future rail franchises, Transport Secretary Lord Adonis announced on January 20 that these would be let for 'a minimum of 10 years', whereas the majority of existing franchises are 'around eight years'. Bidders would also be able to present cases for a longer contract running for up to 22 years in return for committing to private-sector investment. 'Cap and collar' risk-sharing agreements which limit operators' exposure to revenue risk and allow the government to benefit from extra revenue growth could be linked to GDP or employment levels. Performance requirements will be tightened, and there would be greater penalties for companies wishing to hand back their franchises in mid-term.