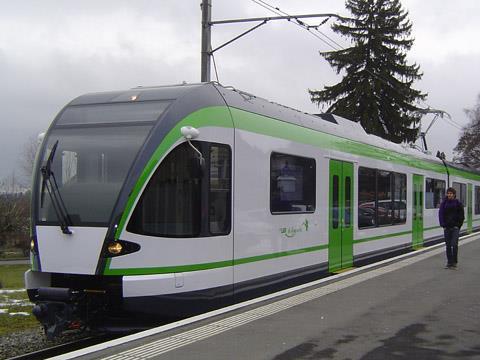 SWITZERLAND: Invited guests rode on the first of six RBe 4/8 electric multiple-units being built for the metre-gauge Lausanne-Echallens-Bercher railway on February 17, just 14 months after Stadler Rail was awarded the SFr41m contract to supply them. They will enter passenger service from May.
Over the past 10 years traffic has doubled on the 24 km line, which opened in 1873, was electrified at 1·5 kV in 1936 and now carries suburban commuters into Lausanne and tourists to the rural areas. The new trains will allow services between Cheseaux and Lausanne Flon to be increased from half-hourly to every 15 min.
The units are 42·1 m long with 60% low-floor, giving space for 306 passengers with 118 seated. The RBe 4/8 design has been customised to the LEB's needs, with two sliding steps for boarding from pavement height or 550 mm platforms.
'The low-floor entry will enable passengers to embark and disembark quickly, which will improve the reliability of the timetable at peak times', said LEB Chairman Yvan Nicolier. 'The ease with which bicycles can be loaded and unloaded onto the train will probably attract more commuters and day trippers.'