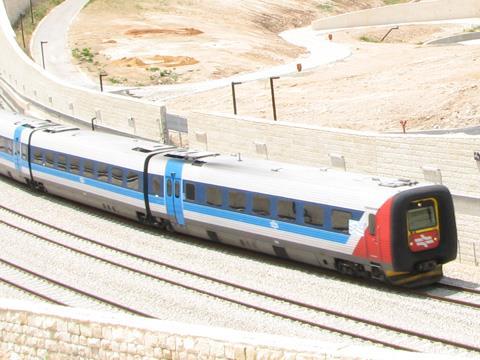 ISRAEL: Tracklaying is underway on the 18 km double-track line being built south from Tel Aviv Hahagana to relieve heavy traffic on the roads to Bat-Yam, Holon, and Rishon Le-Ziyyon West. Eliminating the need to travel via Lod will cut Tel Aviv – Rishon Le-Ziyyon journey times from 31 min to 16 min.
The railway is being built in the median of Highway 20, with civil works being undertaken by road management company Netivei Ayalon and tracklaying by Lesico Engineering. Completion is planned for 2011-12.
After 2011 the line will be extended a further 17 km south to Yavne West, joining the line to Ashdod and Ashkelon. Shafir Civil & Marine Engineering Co was selected last month to undertake civil works on the 5 km between Yavne West and Pleshet Junction at a cost of US$24m.
In the longer term it will connect to the line under construction from Ashkelon to Be'er Sheva via Sederot, Netivot and Ofaqim.